Since I started creating my blog about eyeglasses, many of you have asked me, when I will do a post about sunglasses. As summer is getting closer, I think it's the right time to bring you the latest sunglasses trends.
So here we go: Have a look at my video about 7 sunglasses trends for spring/summer 2022:
Top 7 Sunglasses Trends S/S 2022
#1 Back to the 2000´s – Rimless

#2 See the world in color – Tinted Lenses

#3 Modern Cat-Eye

#4 White Frames 
#5 Keep them safe – Chain 
#6 Neon Frames
#7 They are Back!: Shield Sunnies

Which trend is your favorite? Please let me know!:)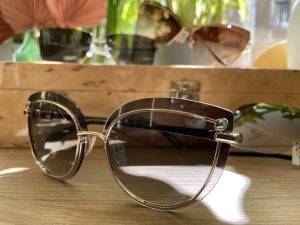 ---
A special thanks to the amazing Szemes Optics & Coffee Budapest, who kindly allowed me to take a few shots of their new models.
Have you seen my previous posts?
Neue Brille oder Sonnenbrille in Sicht? Fünf Brillenmarken, die du kennen solltest
Welche Farbe steht dir? – Meine Tipps für die perfekte Brillenauswahl
Wie werden Brillen hergestellt? – Zu Besuch bei der Brillenmanufaktur "Arte & Gifre"
5 Tips on How to Take Care of Your Glasses or Sunglasses 
Nachhaltige Brillen aus besonderen Materialien
8 Tipps für Kontaktlinsenträger
Ihr habt gefragt! – Q&A: Sonnenbrillen und Kontaktlinsen