For those of you who are unfamiliar with Après-ski, it's a French term that translates quiet literally to "after ski" or "after skiing". Apres-ski became popular in the Alps during the 1950s rise of commercial skiing. If you look it up in the Oxford Living Dictionaries, it's defined as "the social activities and entertainment following a day's skiing." Today, apres-ski is used all over the world even if you aren't skiing in the Swiss Alps. Apres-ski typically starts in the late afternoon, after the "last run" of the day. In Zermatt that's usually around 16.00 PM. However, if you've read my previous post, you'll know that the Swiss like to have late lunches and drink plenty of wine in combination. So lunch and apres-ski, are typically right after the other with a few last runs in between. Zermatt offers a variety of more upscale and laid-back vibes for apres-ski. So there's no need to go home first to change your attire. Its common to wear your skiing or snowboarding clothes as your apres-ski attire including the boots. Just bring a beanie to wear instead of your helmet and embrace how the locals and tourists enjoy good drinks with good vibes.
Here is a quick glimpse of the Tips that are posted and soon to come!
WHERE TO APRÈS-SKI  – TOP 3
1. Cervo  (ch-air-vo)
APRÈS-SKI HOURS
15:00 – 18:00h
Cervo is a mountain boutique resort surrounded by Zermatts' beauty. After a days of skiing or snowboarding, it is quite impossible to miss is it, as it is located right at the bottom of the very last ski slope! This ski slope is suggested for more experienced skiers, as there are some steep parts and it gets pretty narrow towards the end. If you aren't at that level like me, then you can also opt out to take the train back down, walk a few meters, take the elevator up and then you're at Cervo quite easily. I loved this because you can easily meet with your friends again and if they're like mine, you already have a drink waiting for you in their hand.
Drinks
Naturally, finishing the last slope builds up your thirst. Cervo offers all the classic cocktails but if you want to blend in with the locals, then everyone is typically drinking either an Aperol spritz, Huntsman Beer, White wine, or Heuschnapps. If you want to have a little more special drink you can order their Cervo Spritz which is absolutely amazing. Imagine an Aperol spritz but 10x better.  They also serve a variety of other drinks and foods in case you're already in the mood for snacking. If you really want to blend in with the locals then my insider tip is to order the Heuschnapps, which is a hay brandy. Here the locals and other Swiss, have a tradition of always putting the cap on their nose before drinking with friends. 
Ambiance
Take in some of the best views of the Matterhorn from two of their sun terraces. The upper terrace is more for eating and dinning, while the lower terrace is typically where everyone goes for Après-ski fun. Cervo is conveniently located right at the bottom of the slope, so you can't miss it. The hotel is so enticingly chic you might find yourself dropping money on drinks and food quite easily. As for the view, that's priceless. Cervo also offers live music where a band performs on a small stage while everyone is singing along and having a great time. They only play until 18.00 PM but don't worry you can always find them playing at another bar in the town which I will mention in my next post.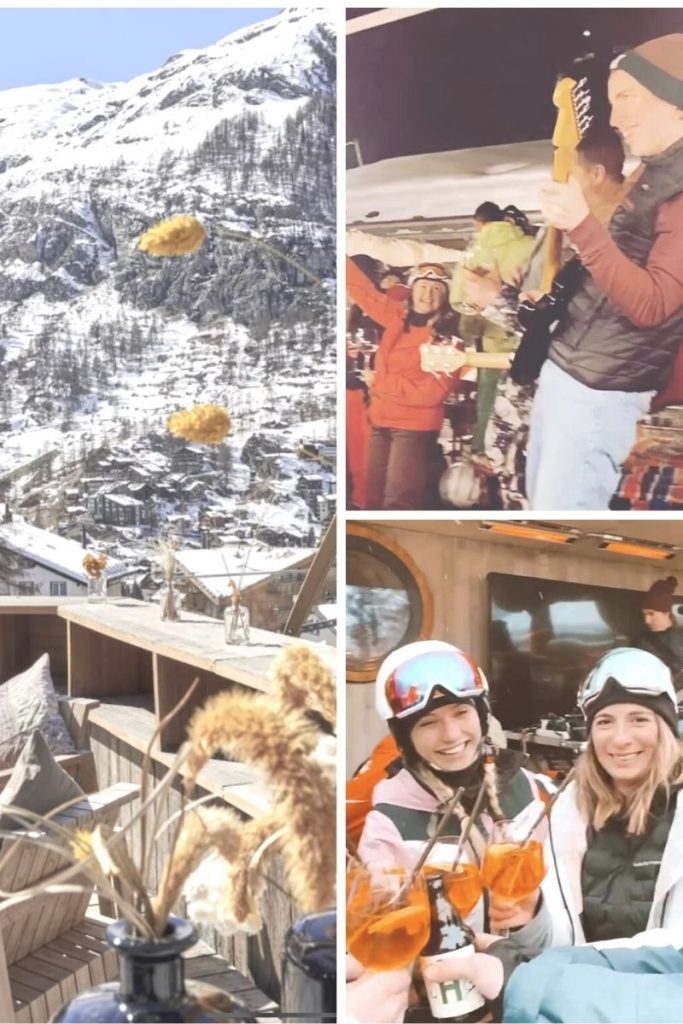 Harry's Bar is a cozy and charming Swiss chalet bar that is decorated with vintage photos of past locals and skiers in Zermatt. Their interior is entirely made of all locally sourced wood from Zermatt and the surrounding region. The inside is quite cozy and packed during the busy season. If you aren't at Cervos first, then you're most likely here either outside or inside with your après-ski gear. They also have an area where you can park your ski's and snowboard gear in the front. Harry's is located in the town, a couple of meters away from the Sunnega entrance. Locals typically spend an hour or so first at Cervo to enjoy the live music and when the band stops you make your way to Harry's bar to continue the drinking. My insider tip would be to leave Cervo 10-15 mins before the band stops playing to have better luck getting a spot inside at Harry's.
APRÈS-SKI HOURS
15:00 – 19:00h
Drinks
The drinks here are fairly priced but when you're with a group of friends, the price can easily get a little pricey. Typically everyone is drinking a beer, wine, Aperol spritz or a Glühwein when you're trying to warm up. As I mentioned in my previous post, I'm a stickler for once I like something, then I tend to always order the same. So of course, that goes for my option of drink, which is an Aperol spritz.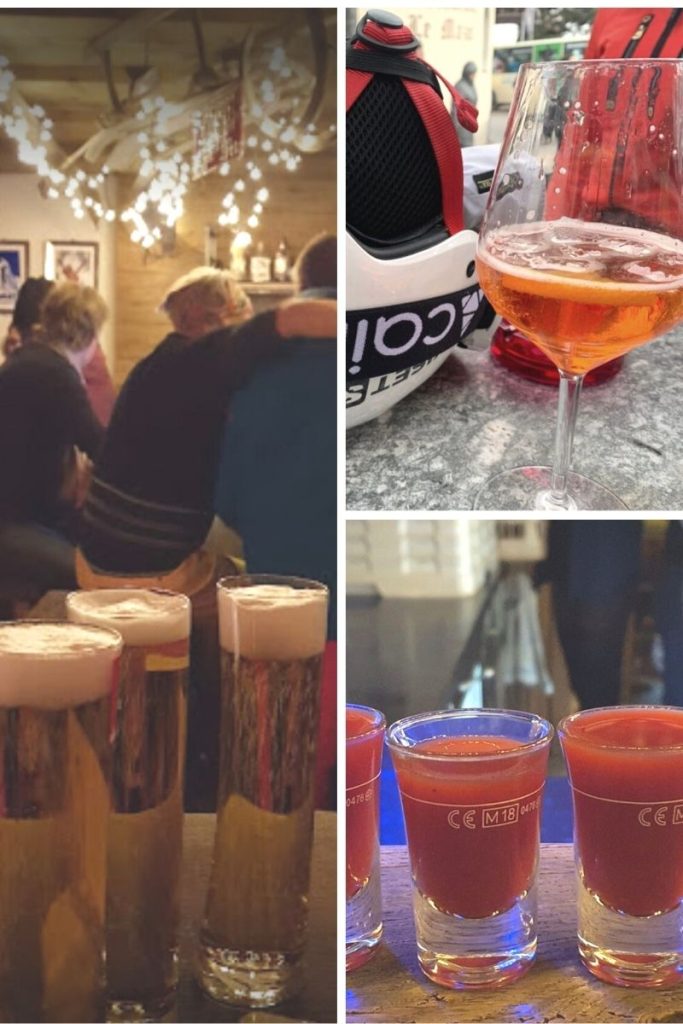 Ambiance
At Harry's bar everyone wants to be inside to warm up as après-ski continues and the sun goes down. There are really only five tables and a bar at which you can sit at, which is quite small for a bar. Nonetheless, that doesn't stop people from packing themselves inside to fight off the cold and to sing along to good old traditional Schlager. Here you can find locals and the Swiss who are there every season of every year. I highly recommend coming here when you want to experience Après-ski with Schlager music, just imagine Oktoberfest Schlager music mixed with Swiss Schlager music.
A couple of years ago Papperla Pub used to be THE Après-ski bar everyone would go to. Of course people still go there but it isn't what it used to be. With that said, you can find a much younger crowd, maybe 16 and up. Of course there are older people as well, but the vibe is different than what you would find at Cervo or Harry's Bar. You can find Papperla Pub on the corner of Kirchstrasse and Steinmattstrasse. They usually have colored lights outside which is hard to miss when you walk by. Like all the other Après-ski bars, they also have designated areas where you can leave your skis and snowboard gear to have some drinks.
APRÈS-SKI HOURS
16:00 – 19:00h
Drinks
As you can tell by the name, they serve mostly a variety of beers. If you're  not a beer kind of girl like me, you can also order wine, cocktails or something stronger like a whiskey. The prices here are bit cheaper than at Cervo or at Harry's Bar, which is apart of the reason why it attracts a younger crowd. They don't serve anything to fancy or out of the ordinary from a typical bar.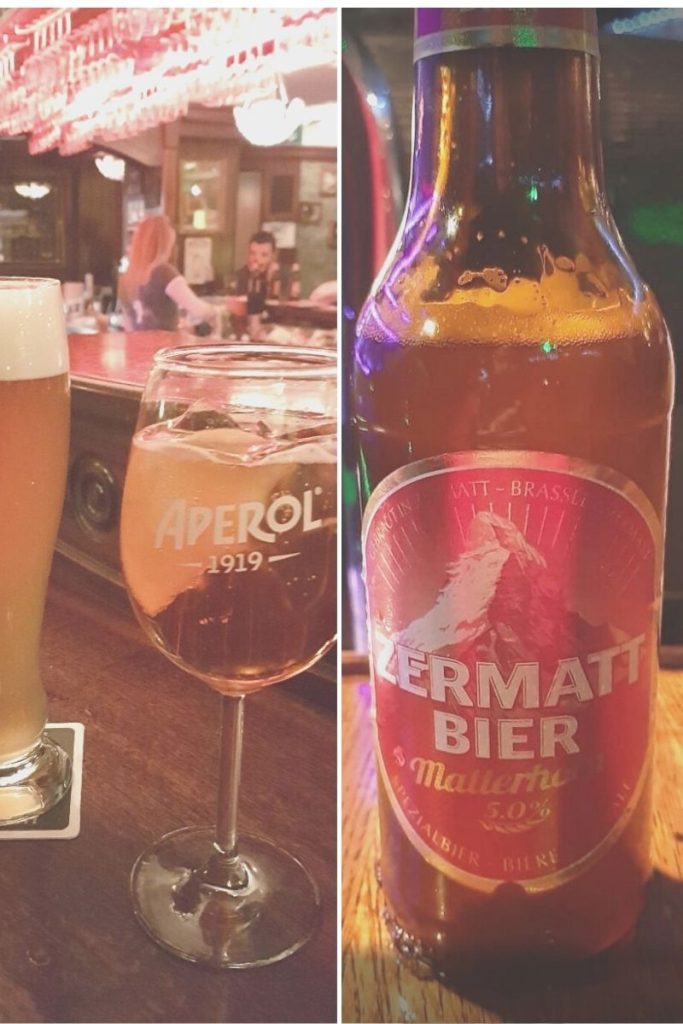 Ambiance
Here they have an outdoor standing area with a bar that has a plastic covering to help shield you from the cold wind. They have two areas inside, one where there are just tables and chairs, whereas the other area is larger with the bar in the center and small performance stage in the corner. Most weekends you can find one of the best musicians in Zermatt, Phil, who used to play at all the well-known establishments. He took time off for a while but now he is back and singing at Papperla Pub. He is quite talented for a musician playing the guitar and signing all the great hits. My insider tip would be to check when he is performing if when you want to listen to really good live music that isn't what is always played at Cervo and some other bars.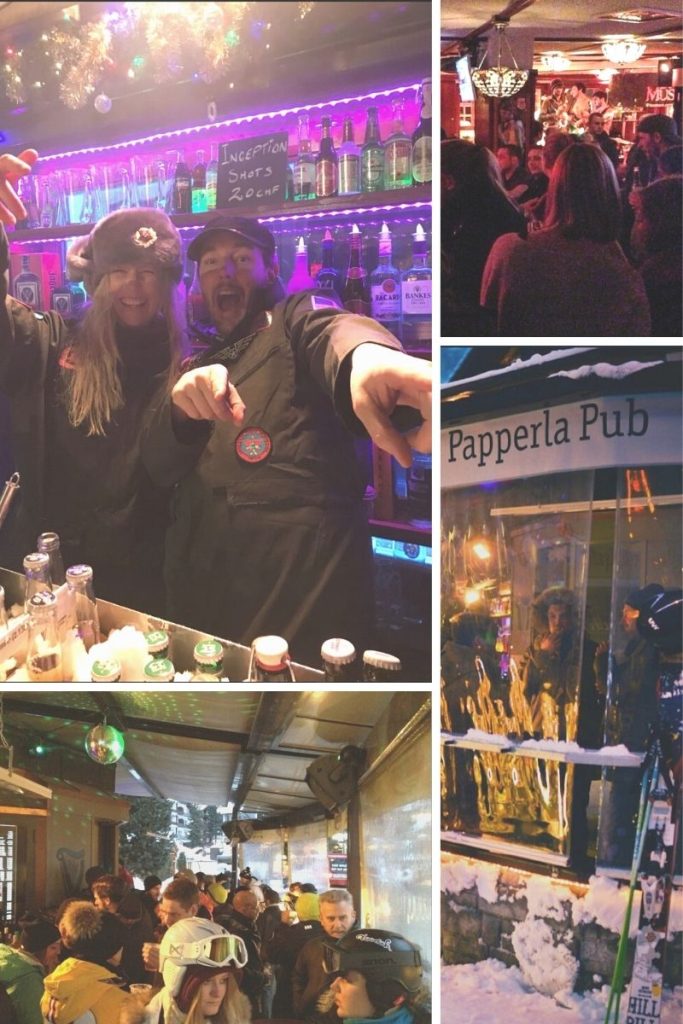 There you have my top 3 Après-ski bars to go to after a day of skiing or snowboarding based on their drinks and the ambiance of each bar! I hope that when you come to visit Zermatt,  then you will keep my tips and tricks in mind. I promise you won't regret it!
P.S. Check out this short video clip of Après-ski below! I would love to know where you would like to go for Après-ski when you visit or which bars you've already been to!