One of the great things about studying abroad in Switzerland is how easy it is to travel to other countries. When staying in Zermatt, you can easily travel to Italy for a day trip whether it's ski season or the summer season. This can be done as the Matterhorn glacier paradise has a panoramic border-crossing link between Cervinia and Zermatt for visitors. The resorts of Zermatt and Cervinia share the same ski area with 20 lifts in Cervinia and 34 in Zermatt, which totals up at 160 km of Italian and 200 km of Swiss turf. However, that's not all they have in common. They both lie at the bottom of one of the most iconic mountain: the Matterhorn.
Here is a quick glimpse of the Tips that are posted!
ZERMATT & CERVINIA
The Matterhorn is identified with the Swiss resort of Zermatt, but in Cervinia, in Italy's Aosta Valley you can hardly ski a slope without seeing the beauty of the Matterhorn Mountain. In 1856, when Edward Whymper became the first person to conquer the Matterhorn, it was from Zermatt that he began his ascent. Now, Cervinia has been in the back light of Zermatt ever since. However, it is still a top international resort in its own right and beauty. Originally, it was known as Breuil when it opened in 1936, it was renamed Cervinia by Mussolini to reflect the glory of the Matterhorn.
More recently, there have been extensive upgrades to the lifts and snow-making capabilities, creating what's touted as Italy's most snow-sure resort, with miles of scenic, well-groomed runs. And its facilities are set to go up yet another notch, with a state-of-the art cable-car that's due to be completed in the summer of 2021. The cable-car will link Zermatt and Cervinia, making travel between the two resorts even easier and accelerating the latter's growth as a year-round ski destination, where even beginners will be able to reach the Swiss glacier that's a popular summer skiing spot.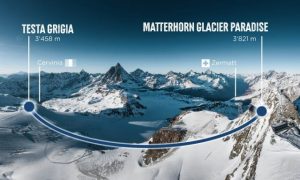 Glacier Link
The cable-car link between Italy's Testa Grigia (11,345ft) and Switzerland's Klein Matterhorn (12,536ft) is now open after years of planning and construction. The panoramic border-crossing will take around an hour and is included in the price of international (Swiss-Italian) lift passes, where tickets can be bought here. The modern cable gondolas have leather seats, which can also be accessible for those who have wheelchairs.
(Click the photo to view the interactive map)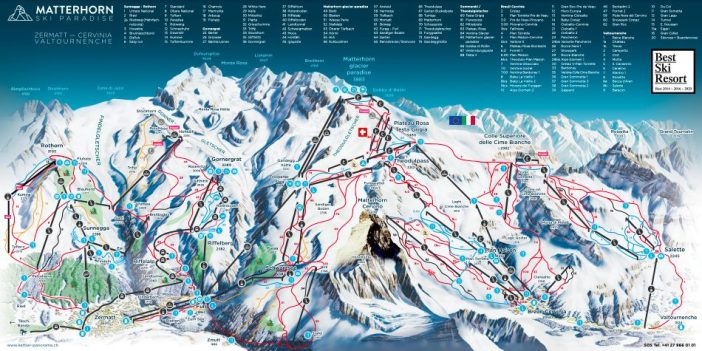 Cervinia
Cervinia has multiple long, cruising, top-to-bottom routes. Amongst them one of the world's longest piste, runs 12 miles from the heights of Plateau Rosa to Valtournenche, a small linked resort with just one chairlift. From various points, you can catch glimpses of the jagged peaks of Lyskamm and Breithorn piercing the sky. This area of the Monte Rosa massif also offers one of the longest helicopter ski drops in the Alps, involving a helicopter ride from Colle Bettaforca, a drop onto Colle del Lys (13,900 ft) and down the Grenz Glacier between the Monte Rosa and Lyskamm peaks. It takes you through the seracs (glacial ice ridges) and sky-scraping scenery you'll eventually skirt the Gorner Glacier and end up on the piste at Furi in Zermatt. To return, you can take the cable-car from Klein Matterhorn to the slopes of Cervinia.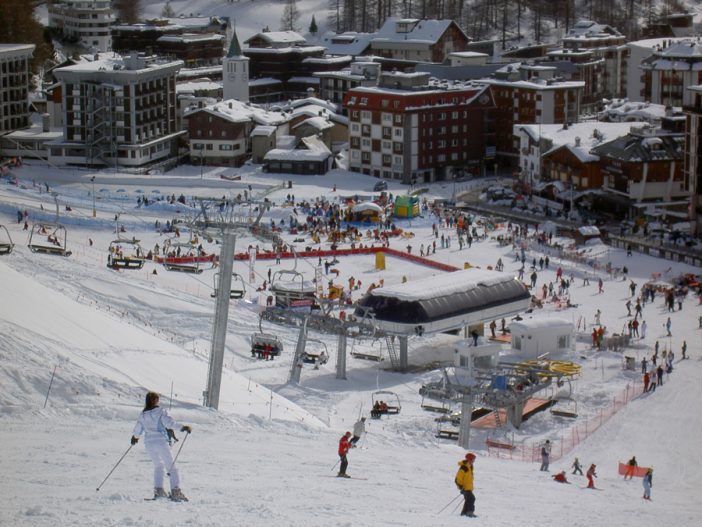 Restaurants
Whether you choose to dine in Zermatt or Cervinia definitely depends on what you are looking for and how much you are willing to spend. As you'd expect, of course Zermatt is much more expensive in every aspect with wine, lunch, dinner or accommodations. So if you don't feel like breaking the bank, dinning in Italy is a perfect alternative to have reasonably priced food that tastes amazing and to remind yourself how much cheaper it is for a spot of lunch. You can pay half the amount to drink proper Italian coffee like an Italian and the same for an excellent bottle of wine. Both resorts are up there with the world's greatest lunch destinations – not just for the delicious food, but also for the breathtaking views. My insider tip is to check out Chalet Etoile, a family run, cosy spot with wood-panelled and animal skin interior. It's a popular choice though, so be sure to make reservations ahead of time. If you prefer something with some local dishes whilst taking in panoramic views of the glacier, try Rifugio Guide del Cervino.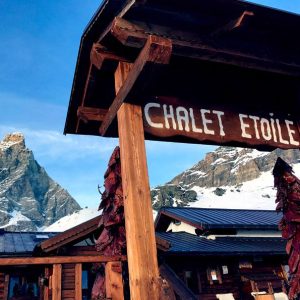 Now that you know how easy it is to travel to Italy in just one day, I hope that when you come to Zermatt you make the trip. Especially as students, we all know how expensive everything is in Switzerland, let alone Zermatt as inflation rates are increasing. Comment below if this is something you would like to do or have already done!