Here is a quick glimpse of the Tips that are soon to come!
I remember the first time visiting Zermatt in 2019 right before the pandemic had started. Luckily for me, I had my very own tour guide who showed me around to the most amazing restaurants after skiing. If you want to know the trick to getting reservations last minute or where to go for lunch on the slopes for delicious food and good vibes, then keep reading. From traditional Swiss cuisine with local ingredients to international delicacies with home-made pasta and offering vegetarian options, if you're like me. Since then, I've become more or less a regular at restaurants during the peak seasons. Here are my top 3 restaurants anyone coming to Zermatt and wanting to have lunch on the Sunnegga slopes, must try these restaurants at least once while visiting! The Sunnegga Valley is the perfect location with sunny and panoramic views with incomparable views of the Matterhorn mountain. As these are some of the best and most sought after restaurants for lunch on the slopes, then I highly recommend you planning ahead of time and make a reservation. However, my insider tip is that typically even though these restaurants say they're fully booked online, they secretly have a couple of tables reserved for the day of. The only catch is you have to call early enough to reserve a table if you happen to forget or visit spontaneously. Keep in mind that all restaurants on the ski slopes are closed during their off seasons to take a break after a busy season and prepare for the upcoming one.
WHERE TO EAT – TOP 3
Adler Hitta can be found on the Alp Findeln, which is right off of the ski slope and the Sunnegga-Findeln hiking trail. They have the most breathtaking panoramic views with several terraces at different levels. Although they have an inside restaurant to dine in as well, most guests tend and prefer to enjoy having their lunch or drinks outside on any of the terraces. The owner is always there, welcoming you as he hosts wearing a baseball cap.
Food
You can enjoy traditional Swiss cuisines or their grilled specialties from the famous outside wood grill. If you need to warm up after skiing and love pasta and cheese like me, then I highly recommend ordering the Spätzlipfanne Hausgemachte Lauchspätzli mit Speck (Home-made leek spätzli with bacon). At this point the waitress knows my order, as I tend to always order the same thing. I mean how could you not when you do a little happy dance. Other dishes that are quite popular is the Adler-Rösti Gratinierte Rösti mit Schinken, Tomaten und Ei (Rösti served with tomatoes, ham and melted cheese with egg), and the 1/2 Mistkratzerli mit Kartoffeln (1/2 Baby chicken with Potatoes). As for the drinks, Aperol, beer, and wine are always a good idea.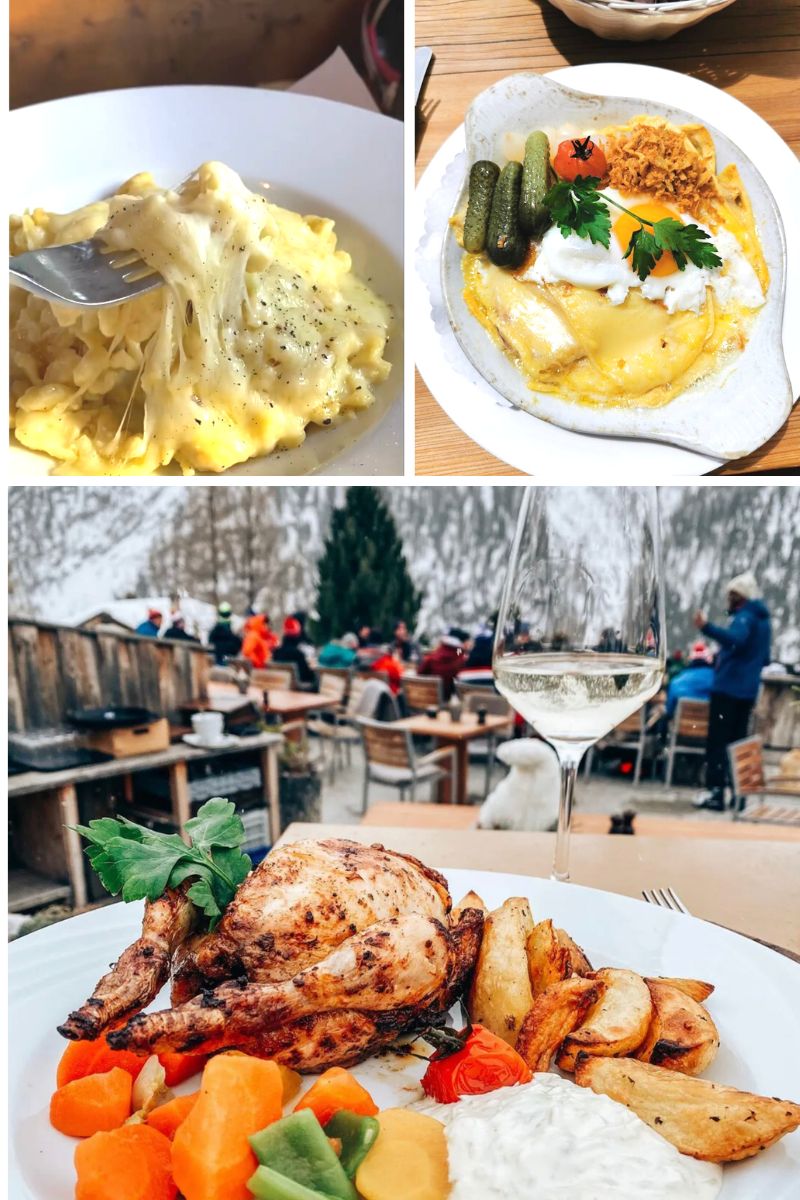 Ambiance
You can always enjoy good vibes here during the season. Something about having lunch and drinks in front of the Matterhorn on a sunny afternoon with your friends after skiing, just hits differently. You can't possibly be in a bad mood, even if the weather isn't as sunny as normal. On weekends, you can occasionally find live musicians or DJs playing during lunch so making reservations are always harder. As for the bar area, its free game for first come first serve but the typical Swiss spends at least two hours for lunch. At least the ones in Zermatt do, reservations are usually made at 14.00 PM and where they stay 10 minutes before the last ski lift closes around 16.30 PM. No matter how long you plan to stay, it's hard not to get caught up in the moment with the great atmosphere.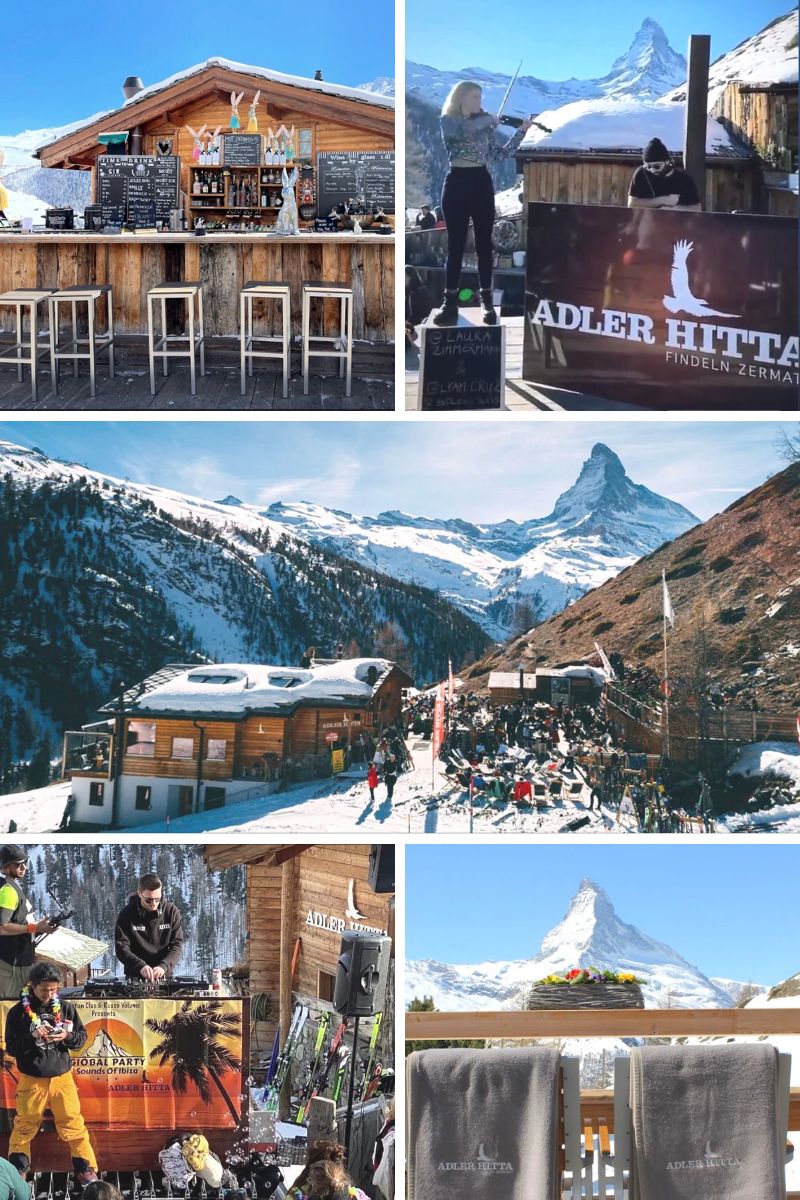 Findlerhof can also be found off of the ski slopes next to a white chapel where you can leave your skis. Unlike Adler Hitta, after getting your skis off, you will need to follow a path down to the restaurant. However, if you're in the mood for an easy hike, there is a trail that leads you right to the restaurant from the town. This hike typically takes about an hour depending on how fast you hike. If you have a dog, Findlerhof is dog friendly and has water bowls for furry friends.  Here you will always need to have a reservation planned out in advance if you want to eat here, as they are quite often fully booked throughout the season.
Food
Depending on the season, their menu changes slightly. They offer traditional Swiss cuisines from rosti to local farm fresh meat specialities, like beef tartar for you meat lovers. As I've mentioned before, once I love something then I order it all the time. I know you ladies reading this, know what I'm talking about when the food is so good and it makes you do a little happy food dance. Findlerhofs' spagehtti patroni mit Blattspinat, Rahmsauce und Scampi (with spinach, cream sauce and king prawns), is hands down the best pasta dishes I have had in Switzerland. I've traveled and lived in Italy for a short time so I know what I'm talking about. Another popular dish is their Kalbskotelette mit rosa Pfeffer, Auberginen-Safran Ravioli & Salat (Veal cutlet with pink pepper, eggplant-saffron ravioli & salad). If you have a sweet tooth they chocolate lava cake that is so delicious. After skiing or a hike, an Aperol spritz or beer is the perfect drink to have. If you don't feel liking drinking alcohol, you can always order a Rivella, which is Switzerlands most famous soda and tastes amazing.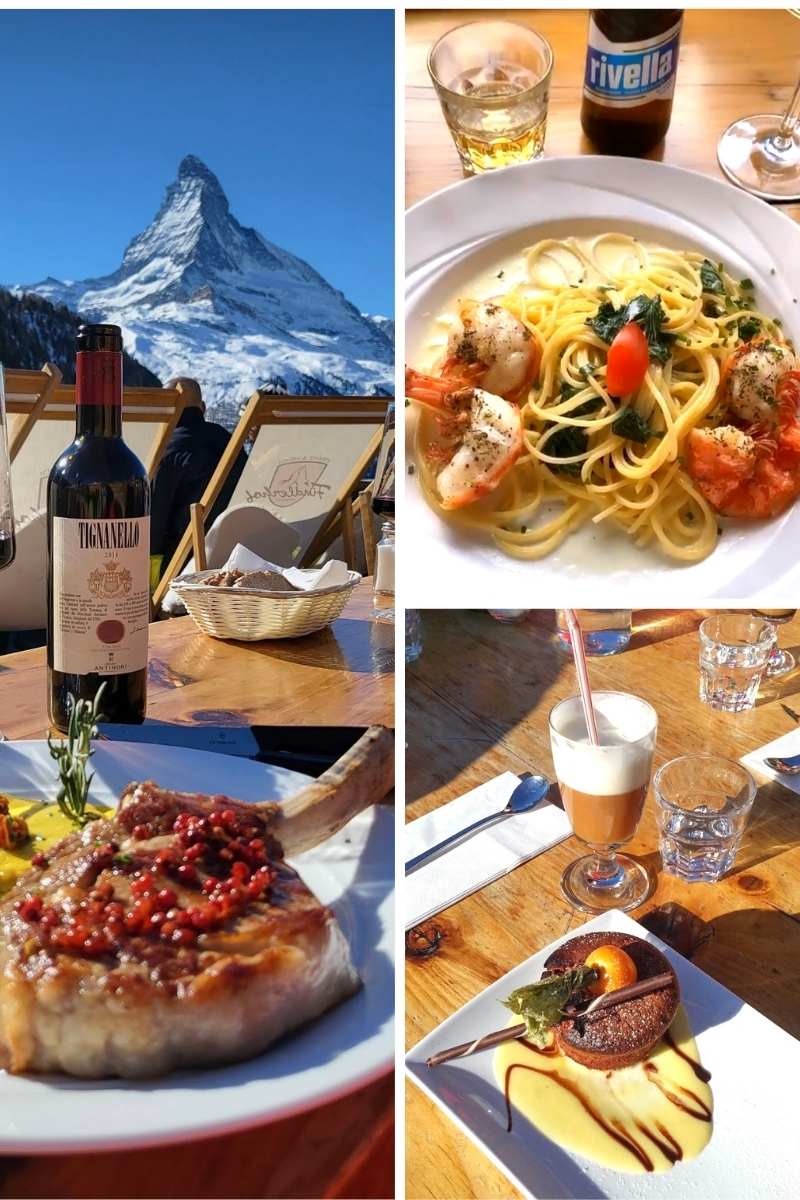 Ambiance
They offer a relaxing atmosphere with an unforgettable panoramic view of the surrounding nature and the Matterhorn. You can enjoy the sound of locals and tourists chatting paired with the sound of nature in the background while soaking up the sun. Unfortunately, they don't play music, so that is something to keep in mind if you would prefer to have music. Almost every piece of furniture they have, is made out of local wood from the trees in Zermatt. Just below at the side of the entrance, there is a wooden porch that has the perfect picturesque backdrop of the Matterhorn, which is great for photos.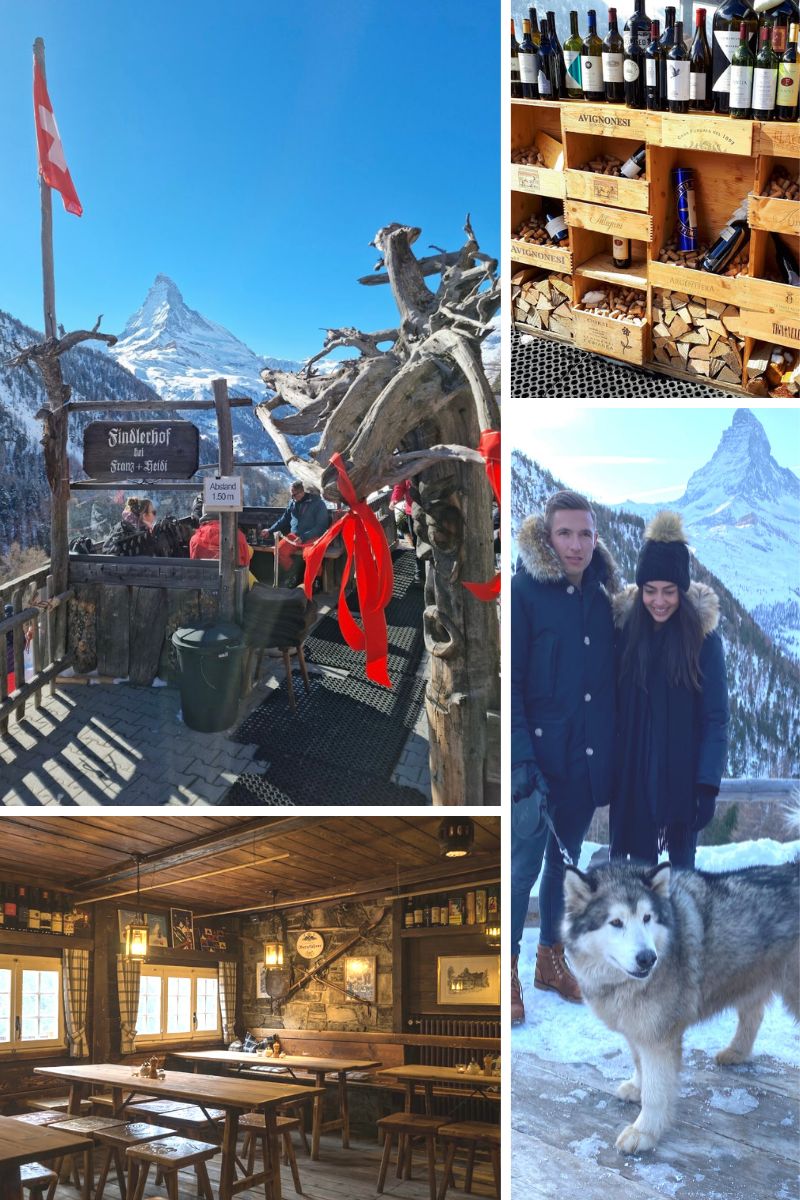 Chez Vrony was been passed down from generation to generation along with their traditional Swiss home-made recipes. You will always need to make a reservation in advance, as they are always fully booked during the winter season especially. If you don't secure a table beforehand and go there to try, then there it is highly likely that you will have to find a plan B. The restaurant was named after the current owner Vrony, where you can always find her being the hostess during lunch or chatting away with her guests.
Food
They offer a rustic and organic Swiss cuisine that has been influenced slightly from international cuisines, which is all locally sourced products from Zermatt exclusively. I highly recommend ordering the flamkuchen mit WinterTrüffeln  (flamkuchen with winter truffles), if you want to have a happy food dance. However, when you want something a bit more filling then their Freiburger Käsefondue ( typical Freiburg cheese fondue) is also quite delicious or if you want something a bit more, I've been told their Vrony burger, saftig gegrilltes Findler Vrony-Beef in getoasteter Westernbrötchen  mit eingelegtem süss-sauer Gemüse (Vrony burger, juicy grilled Vrony need from Findeln on a toasted Western-style bun with pickled sweet and sour vegetables) is absolutely amazing. You will see everyone drinking wine, beer, or having a refreshing Aperol spritz.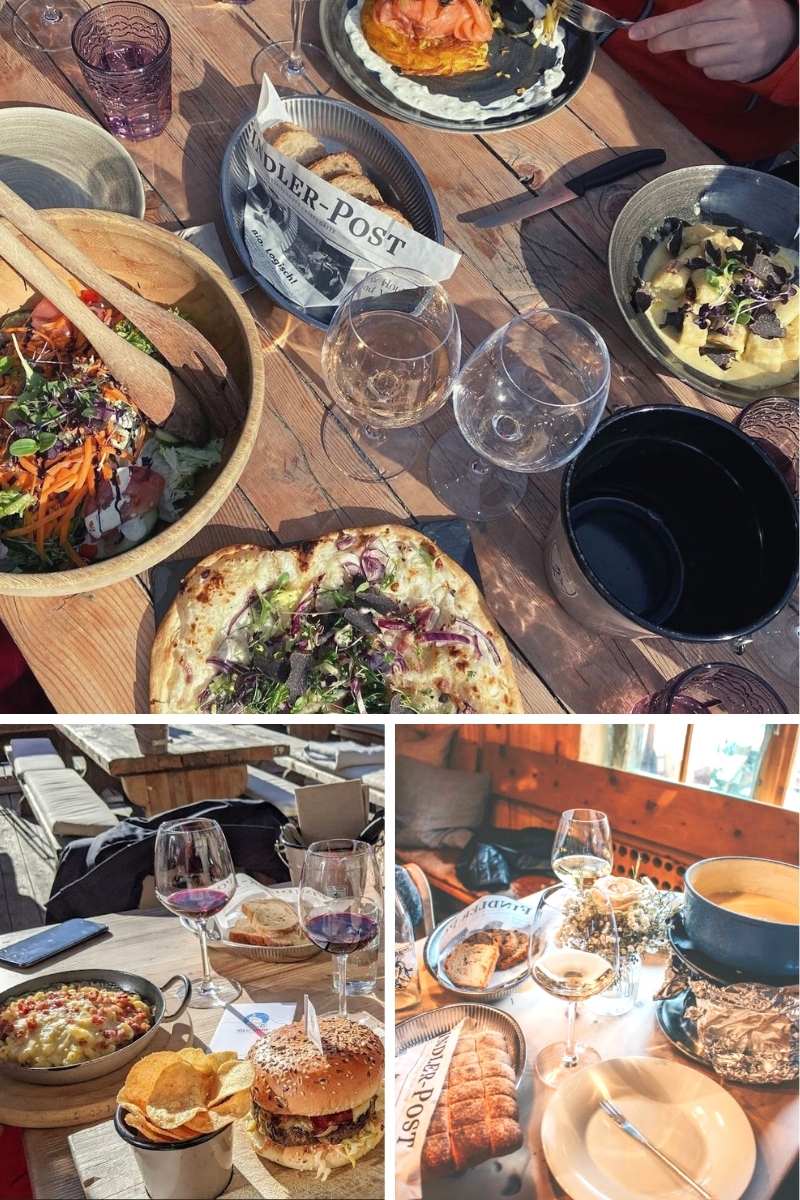 Ambiance
The restaurant is quite charming from the inside and outside. They offer an outdoor terrace with a stunning view of the Matterhorn with relaxing lounge chairs to large family-style tables and benches made out of wood with custom Chez Vrony blankets and other personalized tableware. If you want to take home a souvenir, they have a boutique you can find in the town where you can purchase some of their high-quality merch. You can enjoy a mixture of music coming from the speakers, buzz of conversations, and the sounds of nature while soaking up the sun before the last lift is.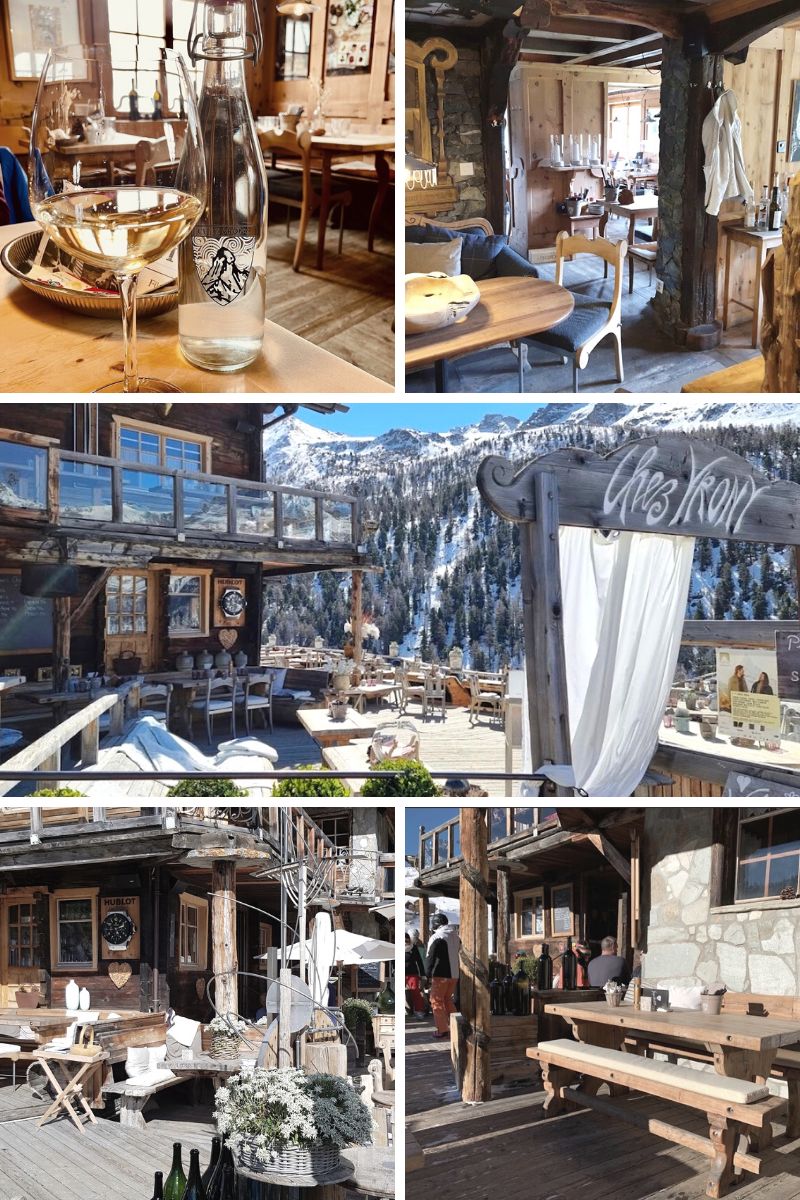 There you have my top 3 restaurants to have lunch on the slopes based on their food and the ambiance of each restaurant! I hope that when you come to visit Zermatt,  then you will keep my tips and tricks in mind and visit these restaurants even if its just for a drink. I promise you won't regret it! If you already know which restaurant you would like to try, let me know and comment below!
PS – If you liked this post, stay tuned every week for more helpful tips traveling to Zermatt