Do you know that women network lesser than men? What's surprising is not only do women need to network, we need to network differently than men. Download the free infographic PDF on How to Network as a Female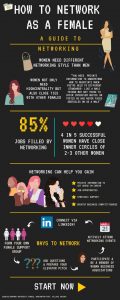 Expand and build your network now! Here is a list of female networking associations that you can join/ sign up in Switzerland:
Let me know which network you have signed up!
Statistics & Information Obtained From: Harvard University, Forbes, Washington Post, KellogInsight