Scrolling your Instagram feed you perhaps noticed that accounts with millions followers are getting less engagement than thousands of micro- influencers who are making a substantial effect on their niche. Since you have heard a lot about them on my blogs, I have seen that those bloggers are appreciated by their audiences and people get motivated from their activity and inspired content. The platform has been more saturated than ever for fashion industry. Either we like it or not, we are present on Instagram for inspirations and fashion hacks. People are curios why influencers have such loyal audience? Well, the answer is not surprising, since they are experiences in fashion and give credible advice to the fans.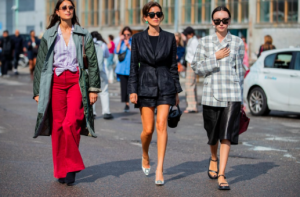 To find great fashion influencers can be overwhelming, especially those that fit your own personal style. Social media bestows influencers with monogram looks and unique style. In this blog, I made a list of street styles of micro-fashion influencers that can be trusted. Street style is a wild statement of outfit, which in the past few months has become more practical. So often our street styles do not even match to the sector of "trend", that are not even close to those at New York or Paris street styles.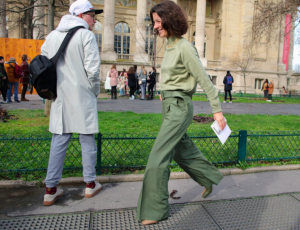 Vogue states that, this season mixed prints, cool combinations and bold colors are in trend. Smoothly, hemlines are still expanding out of the runways and on them. Therefore, the mini-skirts and trousers with wide legs. Thematic trends like '60s and '90s clutter, to dress for this season was basically, to chose a color and then layer the outfit. Also, the knee-high boots has grown its popularity over the months. Those shoes are seen to be likely dressed with a summer dress, outlining that the boots are quite warm and can be matched with summer outfits in winter, spring or autumn. In addition, loose trousers or women's tucked jeans can be also added into boots. Then the leopard sets. What? Leopard outfits, you would ask? Yes. They have been let's say in 2014 a top trend and they are still in trend. Likewise, the last year (in 2019) other prints of animal kingdom transpire, such as: snake, zebra stripes and others. Additionally, the bridge colors and all shades of it have been on demand last year and this year this color is still on style. Then, of course is leather. Leather has been one of my favorites during the fall. To rive the men's and women's closer together.
Generating all the articles and blog posts about fashion and styles, I have decided to try out those street styles with an Instagram fashion model Emma Rivera. Emma is coming from Spain but lives long time in Switzerland, also being a model to many Swiss fashion brands. I have met her way before I started my blog posts and we became very good friends due to the common interests. So, we have been always thinking to create something entertaining and insightful as fashionistas for our audiences. As, there are a lot of individuals requesting for our suggestion and re-presentation of daily and non-daily styles. Then, this video continues with shared outfits from Dora Predojevic coming from Croatia.
Right down the blog you will find some street style outfits from us.