"It is sad that some dresses are only worn once. I believe that every dress should have its own personality and story. I want my dresses to be worn out and to have new experiences"
Joining me at this interview is a full-time computer scientist, Natascha Meili who is also the founder of Storytellerdresses, which rents out 100 evening dresses and accessories in Zürich for any lady who needs it for special occasions.
Giving dresses a second life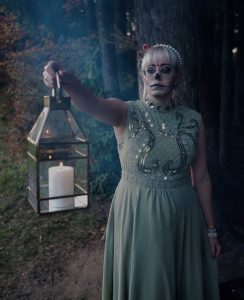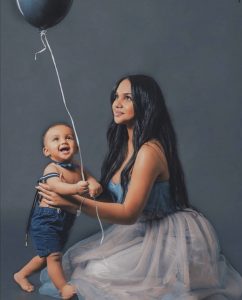 A photoshoot event wearing Zoé          Mother& son photoshoot, wearing Ronja
"Hailey", "Evelyn", and "Jessica" are just some of the names of the dresses. Natascha names them and believes in giving all her dresses personalities and characters. She dreamt about sharing her wardrobe with others who shares the same love for evening dresses and would wear her dresses out to new places. Apart from dresses, you can also rent matching accessories to complete the look. Freshly set up last October, Storytellerdresses aims to help others save money while being environmental-friendly. Her main business was founded online as she connects with her customers on Instagram, Facebookor Pinterest.
As opposed to fast fashion, where people are obsessed with buying new clothes and keeping up with the ever-changing new trends, slow fashion is a move away from excessive consumerism in which people are conscious about the processes behind the production of clothing. It is seeking more sustainable and ethical solutions to prevent wastage of resources.
How can we push fashion forward while doing good to the environment? Is it challenging to build a brand around slow fashion when we are so used to mainstream fashion? Curious, I sought advice from Natascha on how she built and promoted her fashion brand in slow fashion.
Natascha's step by step guide to building a brand:
#1: Choose a meaningful name that explains your brand
"I came up with the name 'Storytellerdresses' so that my clients get to know more about the brand and the reason why I started it. The brand name should ideally be self-explanatory."
#2: Research and align to the preferences of your clients
"The next step was to find out the style of clothing that my customers like. By having similar styles to my customers, it will encourage them to rent dresses and the accessories such as bags, boleros, gloves and waist belts."
#3: Create your online store and start selling!
"I photographed the dresses and created the homepage of my online store. Business cards were made and eventually the showroom was set up."
#4: Market your business
Through Reviews and Recommendations
"I am also very dependent on "word of mouth" and grateful when writers, journalists and influencers share about my business to others. It has been a great honour to have Storytellerdressers featured in the local canton newspaper Mir Mättmistetter, in Annabelle, the Tango Magazine, MIS MAGAZINE and soon in Schweizer Familie."
Through Events
"As more people have gotten to know about my business, I try to make it fun by organising events. I have organised two rounds of Ladies Night. This is an event where anyone can try out our dresses and experience a free make-over and styling by make-up artists, hairstylists and photographers. Another event that I organise is the Storytellerdresses Dinner. 8 ladies, a delicious 3-course meal in our Storytellerdesses showroom and fitting of as many dresses as you like. You may ask, how does that help me? Every single photo that is taken, posted and shared at these events serves as advertising for the brand."
Take it slow, cut down on buying and start renting…
If you need a special outfit for an event, birthday parties, wedding dinner, gala events or festivals, it makes more sense to rent the outfit and look than to buy it and stash it inside your cupboard unworn. Visit her online store and take her dresses out for a spin. You can book a fitting session to try on the dresses before deciding which to rent. If you are seeking a fun experience, join one of the "Ladies Night" or "Storytellerdresses Dinner" to experience a free makeover, styling and photoshoot. Follow @storytellerdresses for updates on these events.
Virtual tour to her showroom with Natascha, introducing her dress collections in German:
[review position="bottom"]