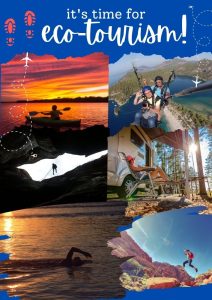 Many people do eco-tourism because they just like it – like me! But I also think it's important to write about the importance of ecotourism, how the environment and the local communities benefit from it.
In theory, the main idea behind ecotourism is to improve the world through responsible travel, in other words: to neutralize the negative effects of human development and to educate tourists and community inhabitants about conservation efforts and research development in fragile natural areas. And as a bonus, ecotourists gain knowledge of the ecosystems, biology, and geology of specific natural sites.
But other important things that ecotourism provides are:
Souce of income for local residents: as local communities begin to see their natural resources as sources of tourism income, they become dedicated to protecting these resources. In many cases, residents find work as tour guides and find that their jobs depend on their own conservation efforts. In addition to the guides, a number of local businesses benefit from ecotourism. Artisans, merchants, and owners of restaurants and inns offer services with features that complement the tourist experience and generate income.
Preservation of culture: Some traditions, customs, and stories survive ecotourism, gaining strength and notoriety thanks to shared knowledge. Brazil has several events that bring together ecotourism and culture, such as numerous Folkloric Festivals and other national and international festivals, which move the economy of these regions and maintain the culture.