Working from home – one aspect that entered our private lives and determined us to make some changes in our style of living. I will talk more about how to create borders between professional and private life, such as other issues concerning working from home in my future articles. For now, let's talk about Online Meeting Platforms.
When we work from home what are the most 3 important tools we cannot live without? – Yes, you are right! Our laptop/computer, the internet and the online meeting tools. How else are we going to work without a laptop and how else are we going to meet with our colleagues without internet and online meeting tools?
Therefore, I created a short list of video meeting tools you didn't know about, that might be very useful as a backup plan or even as a first choice. Relax, there are more pictures than text.
1.BlueJeans   – No, not Lana's Del Rey song.
My overall experience was pretty nice with this online meeting tool. You can have your meetings on their website but if you want to access the tools on the right side, you need to download the app. Similar with Zoom I would say. Downloading BlueJeans was easy, fast and the user interface (UI) looks like this: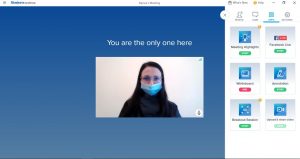 (This is me at the library testing BlueJeans)
I tried to play with the apps since they were new for me. So, I got this: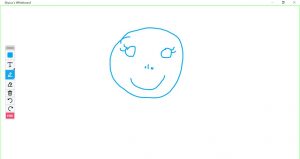 This is a Whiteboard where you can draw, type and erase whatever you want during your meeting. I find this very useful even for meetings between students.
And then I tried another tool,  Annotation: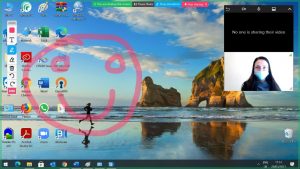 This one kind of surprised me since I can add notations on whatever I am sharing. In this example, just my desktop. So, if you have a PowerPoint presentation or even sharing a website, you can always add notes. Yes, you can do that with other online meeting tools but this one also has a good visual.
The highlights of the meeting can be recorded – This means you can start and pause whenever you want and at the end of the meeting, you have the option to email your recording to whomever you want. There is also this new feature (for me at least) where you can go live with your meeting on Facebook. And last but not least, Breakout Sessions.
BlueJeans offers audio background noise cancellation and a number of up to 100 participants. This app is compatible with Google and Outlook Calendar, Slack, Microsoft Teams, Trello and more.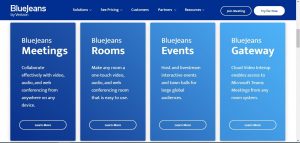 Depending on your needs, you can choose what suits you more.
You can start your free 14 days trial here: https://www.bluejeans.com/free-video-conferencing-trial
2. Cisco Webex – This one has more pictures
I was not that impressed with Cisco Webex but still, good experience overall. Their app needs to be downloaded in order to host your meeting. The UI is very similar with good ol' Zoom. You have an extra option to mirror your image (which I did) and you can also choose a fancy background. Then you can start the meeting.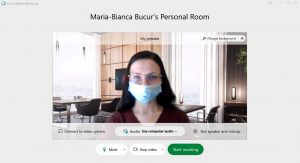 (Still at the library but I took off my hoodie)
Their app took longer than I expected to install. What surprised me about Cisco was the small icon that was advising me to unmute my laptop in order to hear the participants talking. Cisco allows you to create Polls as well as Questions and Answers (Q&A).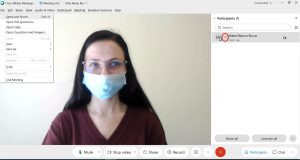 When I tried to share: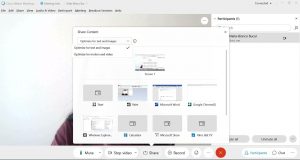 Surprise! You can optimize your sharing!
As I was testing and checking, I found another similar feature with our buddy Zoom: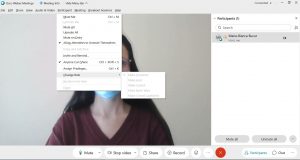 You can change the settings regarding who can share, who can talk, who you want to be the host and also add a cohost in case your first choice has bad internet connection (happened to us all). Actually, you can change the settings regarding everything. Let's not forget about Breakout Sessions which are also available.
When you first open their app, you get to choose: Message, Meeting or Call. This I found very similar with Skype. If you sign up for a free unlimited trial you can have meetings with up to 100 participants and 50 minutes max. per meeting, can not record and you have access to online support only. But if you buy one of their packages, you get up to 200 participants, 24 hours meetings, chat and call support and whatever you want if you ask for a customizable package.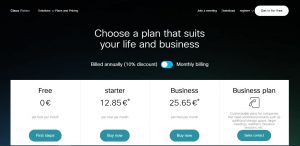 Cisco Webex is also compatible with Microsoft Teams, Google, Outlook, Slack, Office 365 and more.
You can start your unlimited free trial here: https://cart.webex.com/sign-up-webex?locale=de_DE&ft=wbxone&experienceType=Unified&ft=selfsignup
3. Jitsi Meet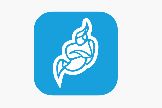 Yes, their logo looks like Genie in a Bottle – No, not Christina's Aguilera song
You don't need to create any account and you don't need to download any app. Everything happens on their website. Easy peasy lemon squeezy.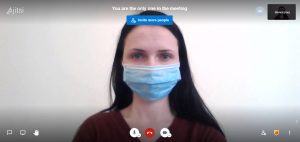 (Yes, bad hair day)
You have the basic options such as chat, share your screen, raise your hand, mute your mic and close your camera. Everything is pretty basic except these 2 features: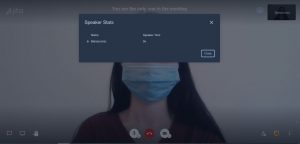 You can check how much one talks and you can directly share YouTube links.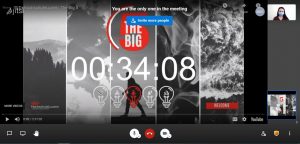 Below is a complete list of their options.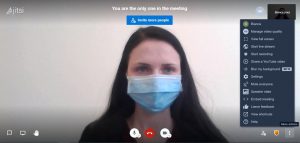 Jitsi Meet was created back in 2003 and includes the option to download their app if you decide on using it more often. Everything is free on their website end they are funded by 8×8 (Voice over IP company). This tool works best when you want to have quick meetings.
You can try Jitsi Meet here: https://jitsi.org/jitsi-meet/
Adobe Connect  – Last one. Promise.
This fancy tool gave me a hard time. It was difficult to sign in to their website. After you finally add your info, you receive an email where they automatically give you a log-in username and password. You need to create a meeting and give a lot of info as well as check a lot of boxes. After you introduced all that crazy info, you are good to go.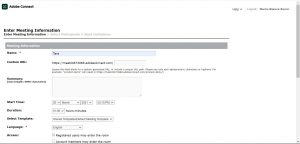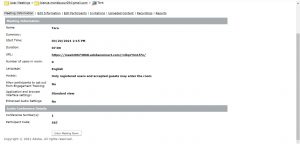 Finally in!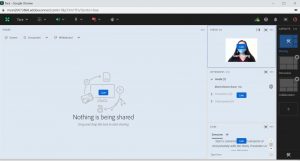 Ok this is clearly some next level meeting tool. As you can see in the picture above, you can choose one of their existing layouts or create a new one. Also, we meet the Whiteboard tool again! But this time everyone can work on it if you choose the Collaboration layout. So let's say you want to Discuss: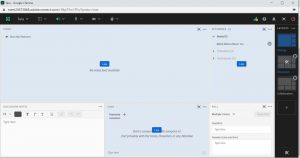 Only here you can find the "Poll" option. And of course, you can also take notes and chat. But wait! There Is more! If you have questions, you don't need to write them in the chat. You have a separate option where you can create a Q&A section and later on, export the file. Crazy right?
As seen below, we have some extra actions: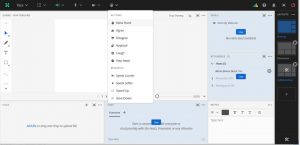 You can actually request your speaker to talk louder or speed down. Imagine telling your boss to speed up..
As we can see, Adobe Connect is definitely impressive. You can record your session, pause your video in case you need to grab a snack and act like nothing happened, check your internet connection status and open an engagement dashboard to check the activity status. You don't need to download the app, only if you choose to. Also, Adobe Connect opens its meetings in a new web window.
You can start your free 30 days trial here: https://www.adobe.com/products/adobeconnect/trial.html#
Now we meet the minimum requirements when working from home. We have a laptop/computer, the internet and the video meeting platform. There are more than just these 4 online meeting tools that you don't know about. And more to come. So, I advise you to check and use whatever is more convenient for your company. Don't limit yourself and your team.