What regular home office workers don't tell you.
Regardless if you are used to working from home regularly or every now and then, due to the current COVID-19 situation, many of us had to quickly switch in desks for the dining table and a swirl chair for the sofa. For some it has been easy to set up a home office in a free room, but some are still struggling to find out how their laptop cable can reach the plug without rearranging the whole bedroom. Based on regular home office workers, I have collected together the most valuable tips on what is most important when designing your home office, regardless of your situation. Moreover, you will learn how to manage yourself in this new working environment, to be motivated and to work productively.
It's all about the set up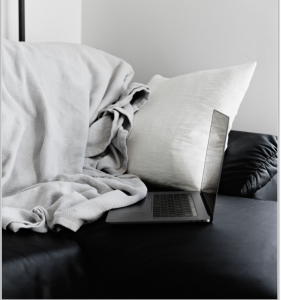 This depends entirely on your personality and what space you have available. Most important is to have a space in which you can set up a desk and chair, where you can install your laptop and equipment without having to put it away every couple of hours. Basically, you should create a clear demarcation between your study/work area and the family's living space. Ideally, you should have your own study, which you can lock up if necessary. This way you prevent your children or other people from entering the room and possibly disorganising and at the same time, allows you to work undisturbed. Nevertheless, it is most important that your space should really have an office character. It should be a place where you can focus on your work and implement projects. And even if it is just a large desk in the living room – an area where you can store all your important utensils and have them at hand immediately. Having your own office or a well thought-out work corner really makes a great difference and is the first step towards more productivity and organisation.
Wire management goes a long way
Tumbling and frustrating over tangled cables and wires happens quickly, but can be prevented easily.  Basic cable management can make a significant contribution to improving your office aesthetics and is quite cost effective as well – you only need to manage a few brackets and cable ties to tangle up any annoying cable clutter. Ideally, arrange yourself with your company about which equipment you must pay for and which they provide. This often are technical equipment such as laptop, printer, external hard drive, various software products, shredders, etc.
Let there be light
The lighting conditions in the office also play an important role. The right lightning provides perfect illumination of the workplace. Make sure that the artificial light on the screen does not dazzle. If this is the case, you either have to move the lamp or rearrange your desk slightly. Pendant lamps are highly recommended, which illuminate the entire room. If possible, you should make use of daylight. At best, place your desk at a 90-degree angle to the window, so that the light comes in from the right or left. Under no circumstances should you place your desk with your back to the window, as the light on causes display reflection, unless you want to leave the blinds on all day, which probably won't be the case. It is also possible to set up the desk so that you can look outside while you work. Since the desk is probably much lower than the window, you can look outside from time to time, which also relaxes the eyes.
Eat your greens? See them!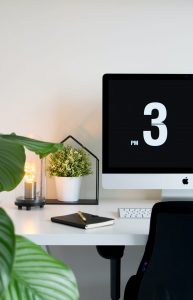 Make your office space come alive by adding some greens next to your desk.  Plants will not only add a touch of color to your office space, but will also increase happiness and relieve stress. In fact, it might also remind you to water them every once in a while and that maybe you too, must refill your glass of water every now and then again to stay hydrated and concentrated. Furthermore, even a few plants can increase productivity. Instead of just picking all green plants, chose a plant which is easy to maintain and helps to improve the air quality. The spider plant, dracaena, ficus are beautiful and particularly well known for their air filtering qualities. To find out more, read my latest blog post on plants that are foolproof and have amazing benefits for your well-being.
Fix the attitude
As previously mentioned, the brain tends to allocate rooms with specific tasks. The same way your brain tends to differ its mood depending on your presentation. The idea of working in your PJs sounds great on paper. In reality, this will negatively affect productivity. Think about how you automatically feel like working out when you are in your gym gear, or how you feel tired when you take off your make-up after a long day. Make the effort to brush your hair and teeth, get out of your PJs and wash your face. These are the small routines and habits that make a huge different with your attitude towards your productivity and motivation to working from home.
Manage time before it manages you
As different as we humans are, as different is our way of working. One gets up early in the morning and ploughs through until the afternoon. The other starts his working day around noon and stays in the office until 9 pm. To be able to work productively, you should plan your working hours accordingly.
Despite irregular working hours, make sure to have a certain routine. Plan during which times you have calls and deadlines and then build the rest of the working hours based on when you are most productive and have no other chores. If you first have to discover the perfect time management for yourself, I recommend you to set and try out different schedules. Are you late risers and only get really productive in the afternoon? Then there is nothing to be said against starting your working day at noon. It's better that way than getting out of bed early in the morning and not getting anything done. You can also set fixed schedules for various tasks. For example, two hours per day for editing e-mails, five hours for blog posts, one hour for taking pictures – depending on what's on the agenda! It is most important that you are available for your co-workers, boss and customers. Be sure to define fixed working hours. Make sure that within those time you are not getting disturbed. Let friends and family leave a message on the answering machine and call back later. It makes sense to make an appointment with them in advance so that you can schedule accordingly. Everything that you don't manage to do until you are personally determined to end and the rest of the work will be done first thing the next day.
Separation preparation
Two reasons why you should buy separate computers for work and personal use: You can claim your work computer as a business expense in your taxes and you can customise the work computers and eliminate annoying applications and software. There is hard work to be done if you use the same computer tables for creating tables as you do to play video games or watch Netflix. If your company doesn't provide you with a separate computer, be sure to a create a new log in just for work. This way you can also save all data and passwords work-related on a different user
Give yourself a break
Regular breaks are very important. Here it helps to stretch your legs a little, maybe make yourself a coffee in the kitchen or get some movement going by stepping out into the fresh air. If you live alone, make sure to use the breaks to socialise with co-workers, family or friends. If managing breaks is difficult for you, try out the Pomodoro technique, it is a time management method developed by Francesco Cirillo in the late 1980s. It helps to work break your workday into 25-minute chunks separated by five-minute breaks. These intervals are referred to as pomodoros. After four pomodoros, you take a longer break of about 15 to 20 minutes.
Organisational satisfaction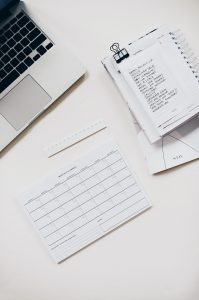 Use lists! Use them to make sure you don't forget anything. There are many great apps which help to plan and structure your chores and working goals. You should have daily to-do lists but also weekly ones for the long term things. Set yourself goals and write them down. It helps to have a good overview and to be able to see at a glance what's next. On the other hand, there is nothing like having a good old note block on which the daily business is written. Besides, it's just a good feeling to be able to "cross out" work that has been done.
If setting goals make it seem hard to reach, try to set several smaller goals, which also leads to a regular sense of achievement. Even a large project can be divided into small stages. This way, you develop even more motivation on the way to the big picture and can already enjoy small professional successes in between. But even here, everyone has to find the ideal way to reach a planned goal. The only important thing is that you don't give up shortly before and prove to yourself that you can achieve something. Motivation and perseverance are two essential aspects if you want to work organised at home. Everything else comes with time and is a nice "learning by doing".
Now you can do it too
Regardless if you always had an office room in your flat or if your laptop took over the kitchen table. No matter how long this COVID-19 crisis will go on for, you are now ready for designing and managing your home into the ideal office space. Any how, this crisis will for sure change company's views on remote working, giving you the opportunity to further create and better your newly designed space.