Yes, it is worth reminding oneself that saying «yes» always means saying «no» to something else … and the other way round. And the keynote of the MuseumNext Tech in Amsterdam by Shannon Darrough, director digital Media of the MoMA, about «the cost of saying yes» – opportunity costs that is – starts off quite entertaining but having such a high profile speaker at a specialist conference one would expect more than 45 minutes of generic advice such as «focus on the audience» or «do something strategically viable». And particularly when you look at the reality of museums in middle Europe you're most likely not faced with the problem of museum directors and personell being too keen to say «yes» to innovation and new technologies, as Michael Geithner rightfully points out in the next presentation about his work with the DDR Museum (DDR = GDR) in Berlin.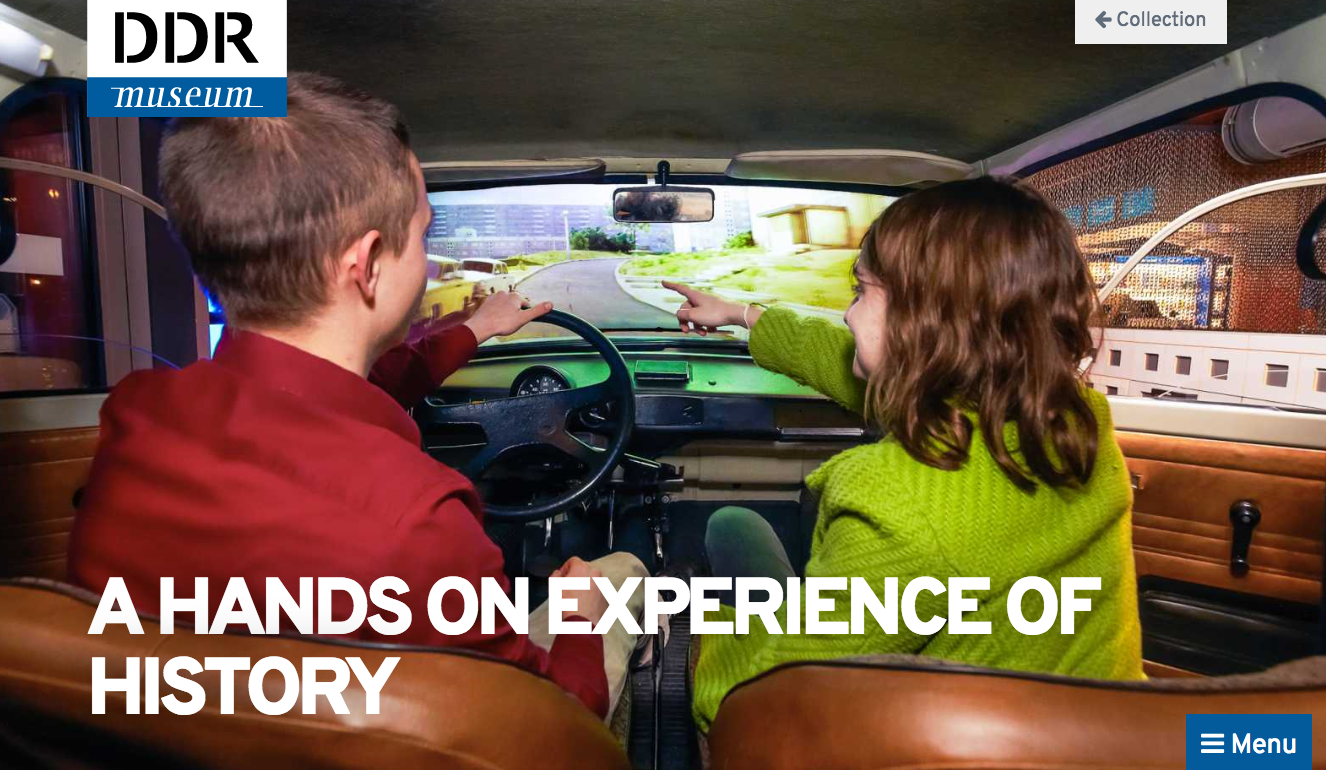 Geithner's design strategy for interactive objects and displays in museums has a certain charme: 1. Take a technology you always wanted to try out 2. … take an object from the collection 3. … choose an audience and 4. … be aware of the space you present in. This almost Fluxus-like instructions resulted in some interesting outcomes so far, such as a fridge that, when opened, displays an interactive smart mirror, visualising all kinds of information about butter consumption or a car of the old DDR car brand «Trabant» aka «Trabbi» turned into a driving simulator. While as a design lecturer I would always tell my students not to start with technology in any design process but rather with the needs and concerns of the stakeholders, the idea to begin with a very restricted briefing is highly workable as it provides a clear focus from which creativity can unfold. This point was also proven on a different level through the fact, that the DDR Museum is a private museum with small budget and staff. Their limited resources seemed to have resulted in efficiency and an unusual mix of skills amongst staff. The smart mirror for instance was programmed in-house. At least with regards to audience involvment this seems to work nicely for the DDR Museum. There is definitely something to think about for better funded institutions.
With respect to developing games for museums, Geithner gives the advice to «make it easy to learn but hard to master». The game mechanics should be self-explanatory by using interactions or metaphors the audience is accustomed to. For example «simple drawers or cupboards are a very good way of interacting with the content inside». But he also suggests not to be afraid to add more complexity as the game or interaction proceeds.
With regards to gaming, the Science Museum in London has quite a history. Here also games as an educational tool have become part of the strategy as Dave Patten, Head of New Media points out. And while usually visitors do not download museum apps, they do download games. And so one of the game apps of the Science museum produced 1.5 million downloads. But games are also part of the exhibition and often on-site experiences are linked with downloadable games. The applications vary widely from a game called «Flood Alert» that shows the workings of the London Flood defences to an installation that lets the audience influence the athmosphere in a whole gallery, thus illustrating the complexity of climate change, up to «Launchball» a physics engine. The challenge to design a planetary rover that should drive further than any other proved one of the best game mechanics. The players can only influence a few parameters of the «Rugged Rovers» and they can also pitch their vehicle against others while the whole contest is projected in the gallery. Another interesting mechanic is used in the treasure hunt «Total Darkness» in which a single mobile phone has to be passed around in a group or family in order to fulfill multiple tasks that the players would assess amongst them. Some of the more important advice by Dave Patten is to define criteria for success in advance. Is it engagement, learning, amount of people involved …? Also: define the learning objectives in advance, make sure the reward is worth the effort and also think about long or medium-term issues such as life cycle of the game, how often it will need updating and how easy it is to migrate it to new emerging technolgocical frameworks.
One of the highlights of the event was Laura Hubber's case study «Percy Jackson invides the Getty Villa», also a game that takes the form of a treasure hunt. Percy Jackson is a fictitious character well known to teenagers. What makes him special is the fact that he is actually a semi-god. Hubber, working as a content producer for the Paul Getty Museum saw a direct connection beween Percy Jackson and the exhibits of the Getty Villa near Los Angeles, a recreation of a Roman country house filled with ancient statues and sculptures and so she developed an audio tour for teenagers. The story starts with the revelation that the visitor is actually a semi-god herself and so the participant turns into the hero of the game. She has to lift the secret of her ancestry by questioning the statues of the Getty Villa. The grand finale plays out in a sculpture hall where the visitor's derivation is finally revealed. A wonderful example how teenagers can be engaged in a museum through storytelling but also how a pop-culture character can be used as a multiplicator.
How can elderly people living in care homes stay involved with museum content? The Van Abbemuseum, also present at last year's MuseumNext Tech with its museum robot, introduced their new inclusion and accessibility programme in collaboration with the Stedelijk Museum Amsterdam. Marleen Hartjes, «Coordinator Speical Guests» at the Van Abbemuseum in Eindhoven explains that 260.000 people with dementia or Alzheimer's are currently living in the Netherlands. The museum has already taken account of this issue by offering museum tours for people with dementia and their beloved ones. The fact that many of the persons concerned live in care homes led to the idea of the «Unforgettable Museum Table». This multi-user table with an embedded screen contains images of the collections of both museums involved. So the care home inhabitants can gather around it and interact with the art works by pulling them around and zooming in. Connected to the images are questions that engage and serve as an entry point for conversations as well as additional images that show the context of the hanging. The table has been rolled out in 400 care homes all over the Netherlands. The costs of around 7000 Euro per table is covered by the operators of the care homes.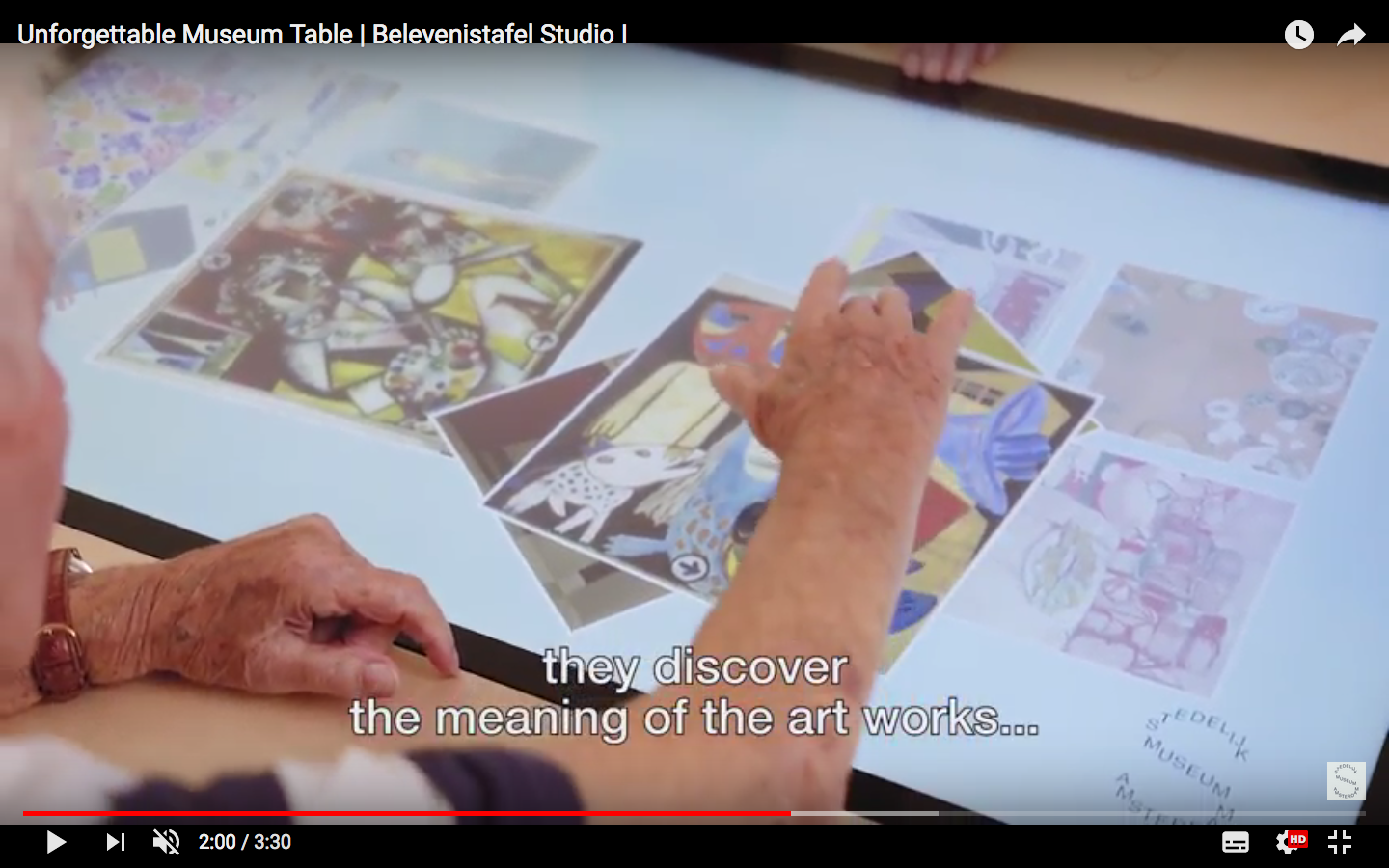 While to me these were the more interesting talks at the MuseumNext Tech in Amsterdam there was also an unsual number of less engaging and less educative presentations at this MuseumNext Tech. Yes it is very impressive that the Natural History Museum in London wants to digitize 80.000.000 objects and yes a global player like them will get the Guardian and National Geographic to write big articles. For medium and smaller museums though it would probably be much more interesting to hear more about the nitty gritty stuff and the pitfalls of digitizing a collection. Jennifer Pullar «Communications and Resource Mangaer» for instance showed how staff was using lego to build flexible gear to hold down the pages of ancient folios while photographing. More of those insights would have been much more educating than the rather glitzy approach during MuseumNext.
Slightly Misleading were both title («How to turn an eagle into a bold statement») and description of the talk by the Stedelijk's Web coordinator Robin Holland and his colleague David Spreekmeester from the company Grrr. While indeed, designing a museum's website after the image of popular search lists is quite clever, one could argue that using capitals as a typeface for the headings is counterproductive when it comes to readability. To be fair though, the talk was nevertheless interesting but not so much concerning questions of branding or organising a museum website's content but rather with regards to strategic issues of web development. Spreekmeester explains that traditionally classical monolith web architectures are built from scratch or at least from modules that belong to the same system. This amongst other things leads to unflexibility as the customers are locked into the existing system. As an alternative Spreekmeester recommends a modular architecture based on so called domain driven design, where many services are provided by spezialised vendors.
A new serendipity explorer for images was presented by Kate Huckle, Senior Product Manager at the Royal Academy of Arts. Tools for exploring art collections with a random element are nothing new. Surprising though is the idea that such a tool should actually attract newer and younger audiences and particularly when the explorer is claimed as an answer to the «Netflix effect» – a new way of accessing visual content – it becomes problematic to say the least. The fact that this explorer does not appear in a Google search and is hidden somewhere deep on the website isn't helpful either.
It would have been interesting to hear about the work of the Adidas archive. However, from Martin Gebhardt's talk this remains unclear. While the «Manager History Communication» of the German sportswear brand told some exciting stories about the athletes the company supports and how these are used for brand purposes, the actual role of the archive could have been explained in more detail. And to this point I don't actually understand why the decision to close down the archive's website should help to focus the activities while at the same time the archive remains a presence in social media. To me social media is about short-term activities and audience engagement while a website functions amongst other things as a long-term memory for such activities.
There was also a short presentation by «Wunder», a new platform that claims to revolutionize the gallery business with the help of blockchain technology. As their website at present still contains a lot of dummy text the concept is probably not fully there yet. However, I get slightly nervous when I read sentences such as «our vision for the future is to live in a world where certain artists can gain instant momentum and traction for their work through a democratized patron supported ecology». It still remains to be seen whether artists, museums and patrons want to live in a world like this or whether there is a different party profiting from this.
So overall I left MuseumNext Tech in Amsterdam with mixed feelings. Thinking about why the last year's event in Berlin was much more exciting to me I come to the conclusion, that all the case studies in Berlin were very focused and contained coherent learning outcomes for a wide range of museums which was definitely not always the case here in Amsterdam. However, having organised conferences myself I know that you never really know what you get in the end. So I wish the organisers good luck for the next time as overall, MuseumNext so far has been an important source of knowledge to me when it comes to developments in the museum sector .