Today we took our luggage on a trip up a mountain to really experience "real"  mobility. We met at Stans and went up the mountain with the exciting Cabriobahn. The view was amazing and the atmosphere in our group was already great.
When we arrived at the top, we were given the task to walk around open minded and focus on all kind of different impressions we make on our trip. We had a look at small things, such as flowers or stones.
Another task was to think about what is needed to create something new. We talked about important facts such as courage, self- confidence, a bad environment (which we need to improve), innovative ideas and the discussions with other people. And we also talked about the space, where we can be innovative.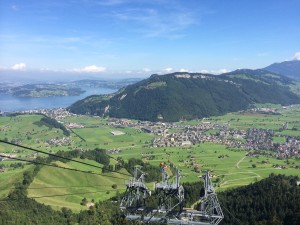 We made an experiment where we had to sit down by ourselves trying not to think about anything and just listen to our breath.  We shared our experiences about that afterwards and this led to a really interesting discussion.
It was a really inspiring day!