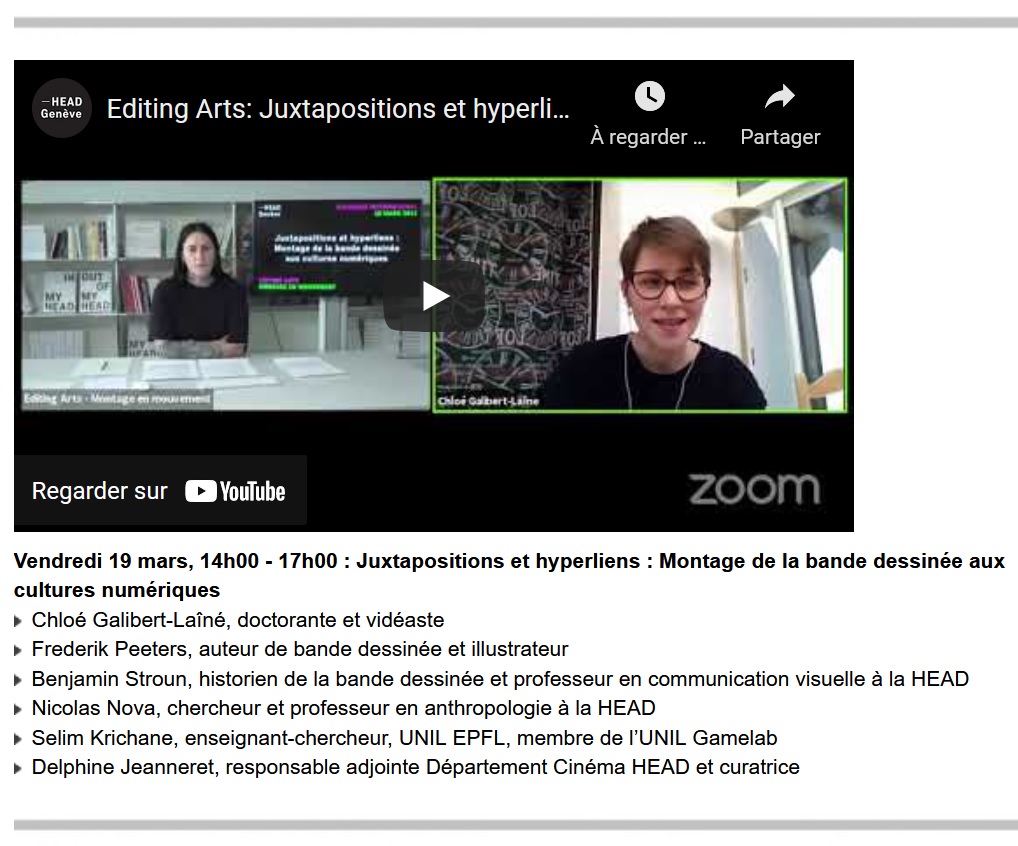 Chloé Galibert-Laîné was invited to screen her video essay Forensickness and discuss her videographic research practice in dialogue with researcher and curator Delphine Jeanneret, as part of the international conference "EDITING ARTS: Le montage au cinéma et dans les arts contemporains" organized at the HEAD in Geneva, Switzerland.
The dialogue and following round table can be accessed here: https://www.youtube.com/watch?v=R9sFTG8GL2A&feature=emb_imp_woyt
Full description of the conversation: Le moyen métrage de Chloé Galibert-Lainé, Forensickness, a pour point de départ le film Watching the Detectives (2017) de Chris Kennedy, entièrement construit à partir de photographies partagées par la communauté internet à la recherche des terroristes re–sponsables de l'attentat de Boston de 2013. Telle une enquête, Chloé Galibert-Lainé suit les traces virtuelles restantes, remonte les flux, et démêle les réseaux de signifiants au fil des hypertextes, quitte à s'y perdre. Comment se crée un film à partir d'image trouvée (foundfootage) ? Comment remonter des flux dans un contexte de recherche ? Quelles techniques de montage utiliser pour une mise en récit ? Existe-t-il une heuristique du montage ? Et que deviennent ces images remontées quand on les regarde ? A partir d'extraits du film Forensickness, nous aborderons les (hyper)liens entre recherche, montage et écriture.