You need to know this paradise destination that is Bonito!
During your trip you will be in constant contact with nature, which is a great way to relax and enjoy the moment in complete introspection. Bonito is located in Mato Grosso do Sul: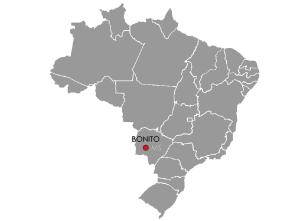 How to get to Bonito?
Despite being small, Bonito has an airport and has direct flights from São Paulo. This is, without a doubt, the best way to get to Bonito.
Another option is to travel to Campo Grande, rent a car there and drive 300km to Bonito. It took us about 4 hours to get there.
Tip: take the BR060 to Nioaque and then take the MS419. We do not recommend MS178 + BR262. This road has a lot of trucks and is not very good to drive with a passenger car.Translated with You need to know this paradise destination that is Bonito!
How to get around in Bonito?
All tours in Bonito are located on farms on the outskirts of town. This means that you will need to commute daily to go to the waterfalls, waterfalls and other attractions. And for these trips you have two options:
hire a transfer for each tour you are going to do
rent a car to have more mobility and be able to do the tours calmly.
The city was founded in 1927 and is 300 km away from the capital Campo Grande. Bonito has much to offer and there is no shortage of beautiful landscapes. Internationally recognized, Bonito in 2013 received the World Responsible Tourism Awards (award for the best responsible tourism destination in the world), by the World Travel Market in London.
So, lets get to the point: 5 days in Bonito, what to do list:
Day 01: Barra do Sucuri OR Sucuri River (fluctuation)
Tip: The best time for this and the other floats is between 10am and 1pm so that you can get incident sun on the water, making it more translucent and with a more vibrant color. But don't worry if you can't make your float in this time slot. The transparency of the water is surreal any time of the day!
Day 2: Aquário Natural + Lago Azul Grotto + São Miguel Grotto (fluctuation + caves)
Day to visit the two most famous caves in the region: the Cave of Lago Azul and the Cave of São Miguel.
Both tours are suitable for all ages and are a true dive into speleology. While the first impresses for its deep blue tone, the second has incredible and unusual speleothems. And the coolest thing is that there is a guide who accompanies and tells many curiosities along the way!
       The itinerary in Bonito included some float trips! And you cannot leave out the Natural Aquarium. The name does justice to the place, which has lots of little fish and an impressive visibility. There are 800m of floating until the Formoso and Formosinho rivers meet.And the coolest thing is that the structure of the place is perfect to spend the whole day. There is a pool, restaurant, changing rooms, and a lake for contemplation where we can see alligators sunbathing. And there is also a place for the protection and recovery of wild animals, where we were able to see a recently rescued anteater.

Day 3: Rio da Prata + Lagoa Misteriosa + Buraco das Araras (fluctuation + contemplation)
The combo Rio da Prata and Lagoa Misteriosa is unbeatable!
Both are in the same farm and are perfectly combined in a day trip. In this case, I recommend taking one of the first schedules for the flotation, so as not to arrive too late at the Lagoa Misteriosa for the dive.
Such transparent waters over an abyss was as if I was flying. And the coolest thing is that this dive can be a baptism dive. That is, if you are not certified, you can still have this experience.   

To close the day, the sunset at the Macaw Hole is simply perfect! Seeing them up close is magical! And since it's close to there, it's super worth including this day in the itinerary.

Day 4: Anhumas Abyss + Jiboia Project (rappel + diving or floatation)
Just when you think you haven't been surprised yet, along comes the Anhumas Abyss! It is famous for being the most expensive tour in Bonito. But here's some friendly advice: don't leave this tour out of your itinerary. It is simply fantastic!

 

It is worth visiting the Jiboia Project, an environmental education project that is a mix of stand up comedy with really interesting information about the universe of snakes.

Day 5: Boca da Onça Ecotour (waterfalls)
Farewell day to Bonito! Go to Bodoquena, neighboring town, to visit the circuit of waterfalls of the Boca da Onça Farm. There are two options, one going up and the other going down +800 steps. I recommend the circuit going down, because it takes breath to climb all that!The Adventure Trail is a little over 2km long and passes by at least 7 swimming spots. Besides the beautiful Boca da Onça waterfall, our other favorite stop was Buraco do Macaco. As we passed the entrance to the waterfall, we came across something that looked like a Mexican cenote! Little blue water and that circular opening to the sky.