Das dunkle Brot aus dem Tessin. Das erste Mal bin auch auf das Pane Valle Maggia in Ascona an der Seepromenade, in der Pizzeria Nostrana, gestossen. Dort gab es dieses köstliche Brot als Beilage zur Vorspeise und ich wunderte mich damals, wie das Brot so viele Luftblasen beinhalten kann. Dieses Geheimnis ist mir nun bekannt und du wirst es in diesem Rezept ebenfalls herausfinden.
Zutaten / I
ngredients

:

Poolish / Vorteig /pre-dough

100 g Wasser / water
100 g Weizenvollkornmehl / whole wheat flour
2 g Frischhefe / fresh yeast
Hauptteig / Main dough

Poolish/Vorteig/pre-dough
330 g Wasser kalt / cold water
400 g Ruchmehl / dark, brownish wheat flour
8 g Frischhefe / fresh yeast
8 g Malz / malt
10 g Salz / salt
Zubereitung:
Poolish / Vorteig
Nachmittags 100g Wasser, 100g Weizenvollkornmehl und 2g Hefe in der Knetschüssel oder alternativ in einer kleinen Schüssel mit einem Löffel gut vermischen, bedecken, 1-2 Stunden bei Raumtemperatur anspringen lassen und anschliessend bis am nächsten Tag während 20-24 Stunden im Kühlschrank bei 4-6 °C gären lassen.
Hauptteig
Den Poolish und alle weiteren Zutaten 5 Minuten auf kleinster Stufe mischen und anschliessend 10 Minuten auf zweiter Stufe kneten. Der Teig ist feucht und klebrig. Er löst sich nur leicht vom Schüsselrand. Gut so!
Anfänglich nur ca. 80 % des Wassers zugeben und gegen Ende der Knet Zeit den Rest tröpfchenweise einkneten.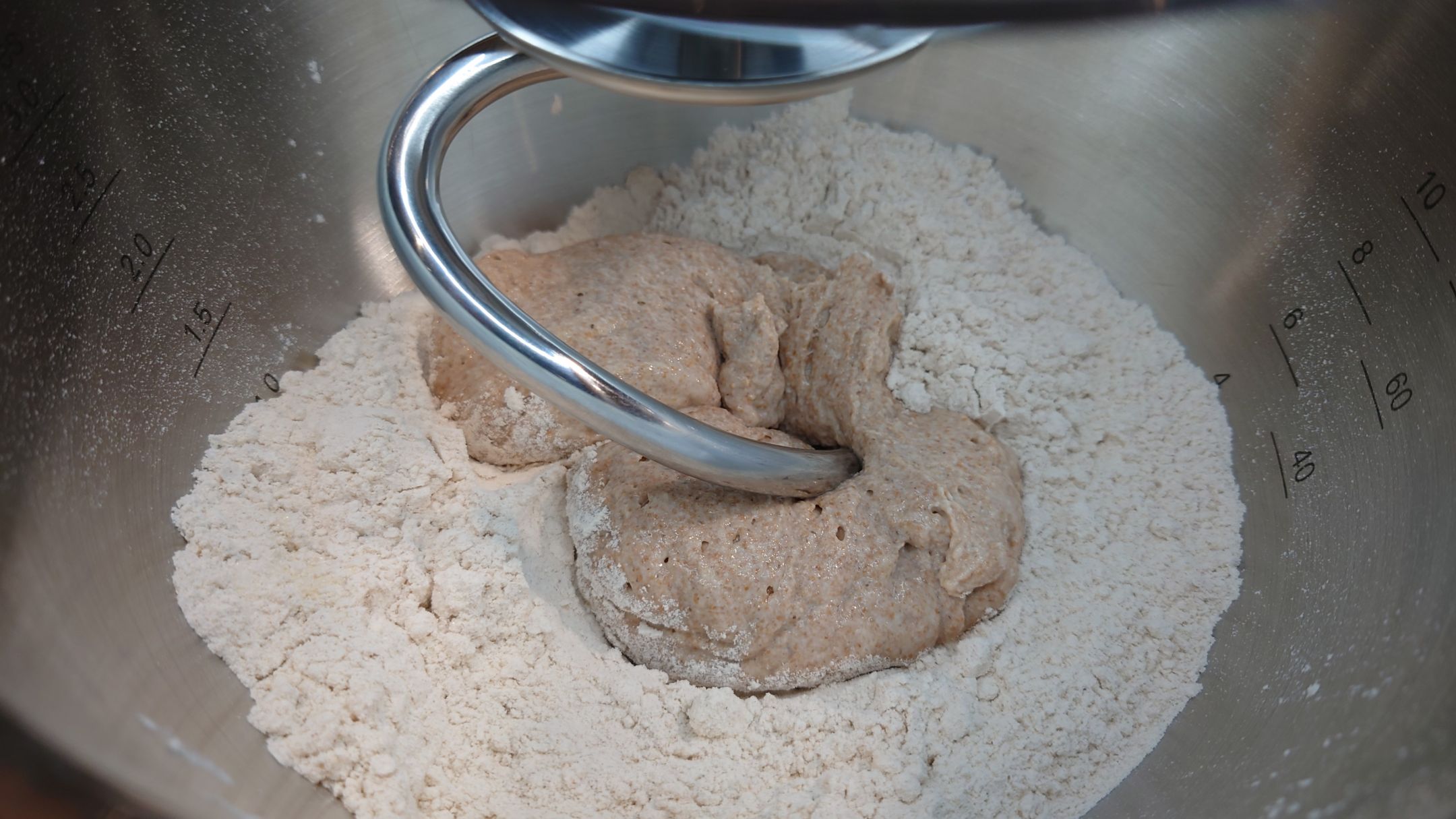 Falten / Formen
Den Teig in eine grosse Schüssel geben. In den nächsten 3 Stunden ca. alle 30-40 Minuten mit nassen Händen rundherum falten (mindestens 4x).
Anschliessend auf der gut bemehlten Arbeitsfläche zu einer Kugel formen und mit Schluss nach oben in den gut bemehlten und genügend Grossen Gärkorb geben. Bei 4-6 °C bedeckt im Kühlschrank über Nacht 12-18 Std. gären lassen. Der Teig geht richtig hoch!
Backen
Den Backofen während mindestens 45 Minuten auf Maximaltemperatur vorheizen, das ist bei den meisten Backöfen um die 250°.
Das Brot vorsichtig auf ein Backpapier "stürzen". Jetzt ist der Schluss unten. Allenfalls überschüssiges Mehl mit einem Mehlbesen abwischen. Das sich etwas ledrig und zäh anfühlende Brot 3x schräg, ca. 1cm tief, einschneiden.
Damit das Brot möglichst stabil bleibt solltest du es jetzt umgehend in den Ofen schieben. Ansonsten besteht die Gefahr, dass es zusammenfällt. Und zwar die ersten 10 Minuten auf Maximaltemperatur und mit Dampf. Nach zehn Minuten den Dampf ablassen und 20 °C tiefer weitere 10 Minuten backen. Dann nochmals ca. 30 Minuten bei 210 °C fertig backen. Das Brot sollte eine dunkle, rustikale Kruste bekommen. Für eine besonders knusprige Kruste in den letzten 5 Minuten die Ofentür einen kleinen Spalt offenlassen. Dazu einen Holzlöffel zwischen die Türe und den Ofen stecken. Für einen schönen Glanz sofort nach dem Herausnehmen mit Wasser abstreichen oder bespritzen.
Ich wünschä viel spass bim bache und en Guätä 😊
Bei Fragen oder Anmerkungen bezüglich des Rezepts, kannst du mir gerne einen Kommentar dalassen und ich gebe dir gerne Auskunft.
Preparation:
Poolish / pre-dough
In the afternoon, mix well 100g of water, 100g of whole wheat flour and 2g of yeast in the kneading bowl or alternatively in a small bowl with a spoon, cover, leave to rise for 1-2 hours at room temperature and then leave to ferment in the refrigerator at 4-6 °C for 20-24 hours until the next day.
Main dough
Mix the poolish and all other ingredients for 5 minutes on the lowest speed and then knead for 10 minutes on the second speed. The dough is moist and sticky. It comes off the edge of the bowl only slightly. Good!
Initially, add only about 80% of the water and towards the end of the kneading time, knead in the rest drop by drop.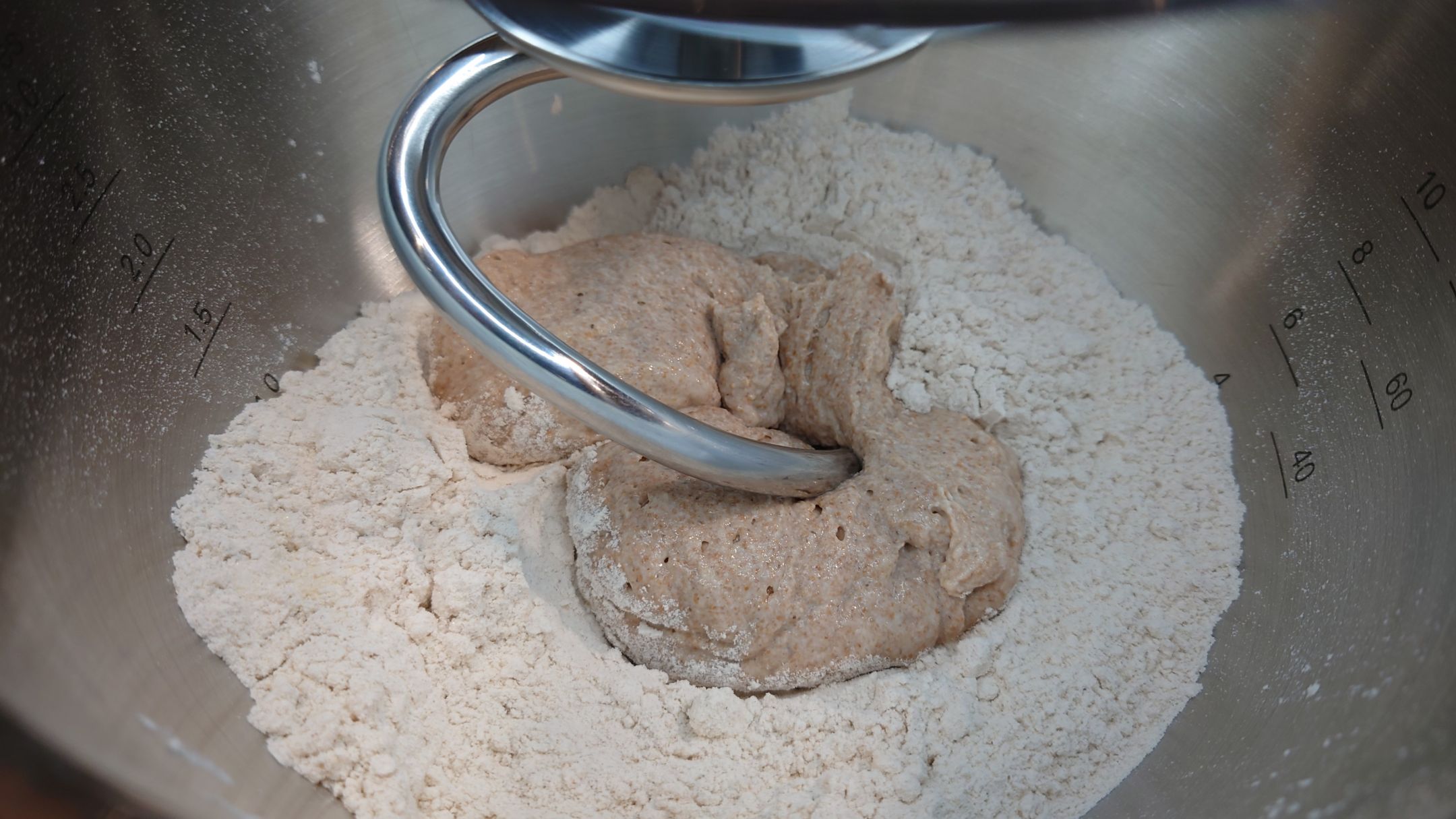 Folding / Shaping
Place the dough in a large bowl. Over the next 3 hours, fold all around with wet hands about every 30-40 minutes (at least 4x).
Then shape into a ball on a well-floured work surface and place in a well-floured and sufficiently large proofing basket with the end facing up. Cover and let ferment in the refrigerator at 4-6 °C overnight for 12-18 hours. The dough really rises!
Baking
Preheat the oven to maximum temperature for at least 45 minutes, which is around 250° for most ovens.
Carefully "turn" the bread onto a baking paper. Now the end is at the bottom. If necessary, wipe off excess flour with a flour whisk. Cut the bread, which feels a bit leathery and tough, 3 times diagonally, about 1cm deep.
To keep the bread as stable as possible, you should now immediately put it into the oven. Otherwise there is a risk that it will collapse. The first 10 minutes at maximum temperature and with steam. After ten minutes, release the steam and bake 20 °C lower for another 10 minutes. Then finish baking for another 30 minutes at 210 °C. The bread should have a dark, rustic crust. For a particularly crispy crust, leave the oven door open a small crack in the last 5 minutes. To do this, put a wooden spoon between the door and the oven. For a nice shine, brush or spray with water immediately after removing.
I wish you much fun in baking and enjoy your bread 😊
If you have any questions or comments regarding the recipe, feel free to leave me a comment and I'll be happy to answer.