On a mild mid-April evening, eight people gather for dinner on a spacious terrace overlooking the Atlantic ocean. While the sun is slowly setting, and the sky takes on a warm tone of orange, salads, baked sweet potatoes, and honey marinated tofu alongside a glass of red wine are being enjoyed. 
From the range of ages and the effortlessness of the chatter, the feeling of a family gettogether arises. Yet, the mix of accents and ethnicities clarifies that the relationship that connects this group isn't blood-related altogether. Actually, this is the very first night these people meet each other.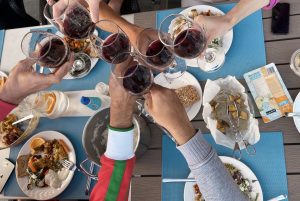 The members of this energetic gathering belong to an intentional co-living arrangement — Borderless Coliving — a curated housing program for remote workers and digital nomads; happily, I was one of them. 

Borderless Coliving creates spaces where nomads, remote workers, entrepreneurs, creatives, or anyone else looking to network, can get inspired by different people's experiences and shared stories.
🌎 

Foreign but Like-Minded 
A space like this indeed attracts particular like-minded personalities. However, they often come from various backgrounds and have unique life experiences. Everyone has different motives for being there, and the cultural diversity offers interesting occasions to gain new perspectives on numerous things.
👩🏼‍💻 

Coliving Host 
Behind every great co-living community, there is always a fabulous host who intentionally fosters community engagement through several group activities. In this case, Maris, one of the co-founders of Borderless Coliving, was the person curating our experience. She made suggestions for activities, kept an eye on groceries, and organized the facilities such as our shared car (to name a few).
🏠 
Life at Borderless Coliving
Living with another seven people under one roof doesn't mean you necessarily do everything together the whole time. Nothing is compulsory, and everyone can live and work at their own pace. However, most of the time, we desired to spend our time together and scheduled our plans accordingly. This meant we also had to consider different time zones because one of us, for instance, worked for a company halfway across the globe and therefore had to work in the afternoon to midnight-ish.

🕖 Our days usually started between 7, and 8:30 am, depending on when everyone made it out of their comfy bed. On some days, we began with yoga. On others, we went straight to breakfast. Eventually, we mostly focused on our remote work (or studies in my case). 
Lunch and dinner were always prepared by a pair of our group, which led to a deliciously diverse set of meals throughout the week. From Polish to Brasilian, to Italian food we had everything!
In the evenings, we sometimes performed spontaneous karaoke nights (eight adults singing — screaming — Bohemian Rhapsody (Video at 2:37) ), careless dance sessions, or late-night sharing circles.
Weekends were there for exploring the island: Strolling around the nearest village and grabbing a bite from a trendy ice cream place / Heading to a fancy rooftop bar in the city for a smoothie and an Instagram photoshoot / Hiking to the most beautiful viewpoints / Getting smashed by big waves while laughing hysterically (Video at 0:31)
The blend of emotions and experiences shared with people in such a short time frame cultivates deep connections (Time flies when you are having fun!). There's something about these experiences that evokes instant bonding. The souls I met in Borderless Coliving were much more than simply individuals I shared resources with. In no time, they became my partners in adventure, inspirations, and friends.
Same, same, but different!

While some might think of co-living communities as a hippie, cult-ish, college dorm-type situation, I would more so describe it as a long-term summer camp for grown-ups. But, you choose yourself.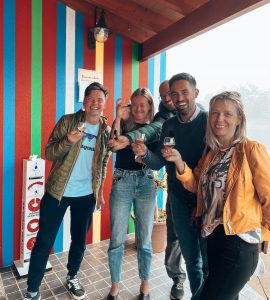 ---
I hope with this post, I could give you some insights on my co-living experience and that you enjoyed watching my second video! (Don't forget to also check out Part 1, if you haven't yet!) As always, all feedback is welcome and appreciated! 🤎
If you want to watch more co-living videos, check out Borderless's YouTube channel ⇒

click here

⇐
Or if you're interested in reading a digital nomads blog, check out Dario's blog ⇒

click here

⇐