Sustainability in the fashion industry is becoming increasingly important. In this blog post, you will find ten tips on how to achieve more sustainable fashion consumption.
My blog project is coming to an end, and this is already my last post. In order to give you the opportunity to get active now, my last blog post contains ten tips on how to make your wardrobe or fashion consumption more sustainable. Enjoy!
1. Upcycling
Do you have clothes that no longer fit you or that you no longer like to wear? Have you ever thought of upcycling them instead of throwing them away? This is a super fun way to extend the life of your clothes and get back the joy of wearing them. If you do not have any experience in sewing and repairing your clothes, you can, for example, attend a workshop at No Sweatshop in Zurich or People's Factory in Lucerne. Alternatively, you seek inspiration on the Internet. You can find various DIY tutorials on Pinterest or Youtube. In this case, it is best to search for the keywords upcycle clothes, refashion, or thrift flip. You might also want to visit BlueprintDIY's Youtube channel. She has some fantastic videos about how to upcycle clothes.
2. Take care of your clothes
The fast-fashion consumption often leads to a lower quality of clothing. Lower quality, in turn, means that we replace our clothes more often. Sometimes, however, this is also due to incorrect cleaning and storage of the clothes. Did you know, for example, that cashmere and wool should never be washed in the washing machine, but by hand? And that they should never be hung up to dry? In general, you should wash clothes not too often (but still stay clean ;-)), because every wash cycle damages the garment. Besides, the washing machine itself should be run once a month at 60 degrees to kill germs and bacteria. I would like to encourage you to study the garment label and inform yourself about the proper care of the garment so that it lasts longer. This will contribute to more sustainable consumption of clothing.
3. Rent clothes
Many of you had probably bought a dress for a special occasion before and have never worn it again afterwards – right? In such cases, renting a dress is a good alternative. There is a growing number of businesses for clothes rental, such as RAGFair, where you can rent designer clothes at a fair price. At RAGFair, you cannot only rent clothes but also have your designer pieces rented out. Learn more about this here.
4. Buy and sell second-hand fashion
If you have read one of my blog posts before, you might have noticed that I am a fan of second-hand fashion. Reasons why you should buy second-hand fashion can be found here. If you are interested in buying second-hand fashion, you will find a selection of great stores here. If you are also interested in selling second-hand fashion, check out the following articles:
Give your dress a second life!
How to sell your clothes online – Part I
How to sell your clothes online – Part II
5. Sustainable Labels
Another way to increase sustainability in your wardrobe is to buy clothes from sustainable labels. But how do you find out which labels produce sustainably? There are several ways to do this. Good on you is the world's leading source for fashion brand reviews. With its app, you can easily find out how sustainable a particular fashion brand is, or find a sustainable brand if you are looking for a particular item and do not know where to buy it. Another great option is to use the app from Renoon, a start-up company based in Milan. The app is super easy to use. Just enter your desired item in the search query, and Renoon will suggest sustainable products that match your request. With a few clicks, you can even buy the product by being redirected to the seller's online shop.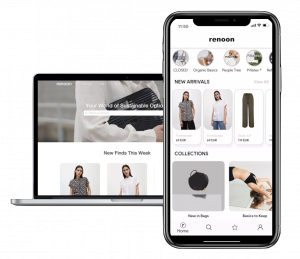 6. The 30 wears challenge
Before you buy something, you should always ask yourself how often you are going to wear the item. On average, a T-shirt is only worn four times before a new one replaces it. Terrible, isn't it? This is where the 30-wears challenge can help. This challenge was started by Livia Firth and Lucy Siegle, who are experts in sustainable fashion. The challenge is very simple: before you buy something, just ask yourself if you will wear this garment at least 30 times. If the answer is no, then put it back and do not buy it. This will help you to stop making emotionally driven purchases, and every single garment in your wardrobe will become more valuable.
7. Exchange Clothes
You would like to have some new pieces, but you do not want to spend too much money on new clothes? Exchanging clothes could be a good alternative for you. You can either participate in a swap meet or simply exchange your clothes with your friends. For example, in Switzerland, the Walk-In Closet association organizes swap meets several times a year and at different locations. You can find more information here.
8. Capsule Wardrobe
The capsule wardrobe concept means that you have only a few pieces in your wardrobe that all perfectly match each other. There are many blogs and articles on how to build a capsule wardrobe. I have picked out a few tips for you. First, define the number of items you want to keep and set this number as your goal. For example, a good number could be a maximum of 50 items. Then start by simply clearing out your closet. Try to put together ten different outfits from just ten pieces. Furthermore, try to think about what you really wear in everyday life.
9. Avoid Influence
Nowadays we are surrounded by advertising around the clock. We are merely pushed to mass consumption. On social media, we follow influencers who show us what products we need in our lives. Try to change this by following only people who really live a sustainable lifestyle. And stop following people who have a bad influence on your consumer behavior. You will be surprised how much bad influence you can avoid this way.
10. Minimalist Lifestyle
The last tip is very simple: "Buy less, choose well, make it last" – Vivienne Westwood. Have you ever thought of living a minimalist lifestyle? If you want to learn more about it, take a look at Stella's blog series. She addresses different areas where minimalism can be applied.
Are you ready to increase sustainability in your wardrobe? What is your preferred approach? Let me know in the comments section below.
Sources:
Fairy Tale Gone Realistic (2018). 10 TIPPS: KLEIDUNG RICHTIG PFLEGEN. Retrieved May 5, 2020 from https://www.fairytalegonerealistic.com/10-tipps-kleidung-richtig-pflegen/
Schöb, A. (2020). 7 Tipps für mehr Nachhaltigkeit im Kleiderschrank. Retrieved May 5, 2020 fromhttps://www.glamour.de/mode/mode-news/nachhaltiger-kleiderschrank
Into the Eco (2017). ARE YOU READY TO TAKE "THE 30 WEARS" CHALLENGE? Retrieved May 5, 2020 from https://intotheeco.com/take-the-wear-it-30-times-challenge/
Almassi, H. (2020). How to Build a Capsule Wardrobe That Will Last a Lifetime. Retrieved May 7, 2020 from https://www.whowhatwear.co.uk/how-to-capsule-wardrobe/slide41
Photo by Caleb Lucas on Unsplash